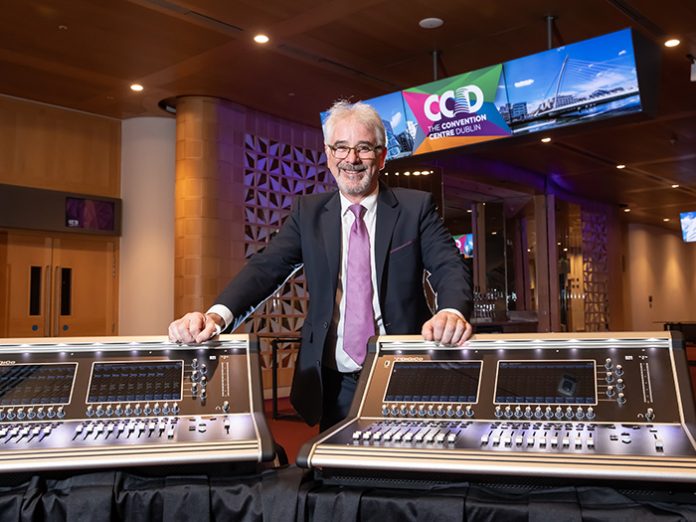 Set in Dublin's Docklands, The Convention Centre Dublin (The CCD) is a multi-award winning, world-class venue. It has hosted more than 1,850 events since it opened in 2010 and has become an iconic landmark on Dublin's skyline. The venue has recently invested in multiple DiGiCo S21 consoles, supplied by the manufacturer's Irish distributor, Rea Sound. According to Pat Crowley, one of the venue's Technical Production Managers who specialise in audio, The CCD works with five-star equipment for a five-star venue, with high-quality sound and user-friendliness. The S21 was a perfect fit.
The venue had looked to DiGiCo from the very beginning, initially investing in an SD7 and three SD8s, but it had been looking for a smaller, more compact console for a number of years. When DiGiCo launched the S-Series, Pat knew the S21 ticked all the right boxes.
"We have a lot of users who are AV trained, but not necessarily well up on the sound end of things," he said. "The S21 is great for this."
As well as six spacious foyer areas, the venue has purpose-built meeting spaces, a 2,000-seat auditorium with full theatrical stage and fly tower, 4,500 sq metres of exhibition space and theatre capacity for 3,000 delegates in The Forum. It also boasts banqueting facilities for up to 3,000 guests, intimate boardrooms, large and small halls that range from 160 to 1,800 capacity and meeting rooms.
A total of seven S21s have been installed, along with five DMI AMM cards, which can expand the consoles' I/O, providing interfaces with industry formats from analogue expansion, MADI, Dante, Waves SoundGrid along with an Automix capability, a vital component for the venue. Five of the consoles are permanent fixtures in various locations around the venue, predominantly in the halls, with two available to be utilised on an ad hoc basis.
"The general set up in the halls is a lectern and a top table for four, with lapel microphones and handheld radio microphones supplied for Q&A sessions," said Pat. "We also run video content from multiple sources as well as music stings. We have a lot of stored scenes in the consoles for different scenarios that we can recall. The engineers set these up and Automix looks after the difficult bit for them."
Rea Sound provides local training and support to The CCD, and with digital tech guru, Gerry Wilkinson, having spent time on-site after delivery making sure Crowley and his team were up to speed on the S21's functions, the consoles are proving invaluable.
"The S21s ease of use and great sound quality means we are very happy with our investment," Pat concluded. "And visiting engineers just love them."