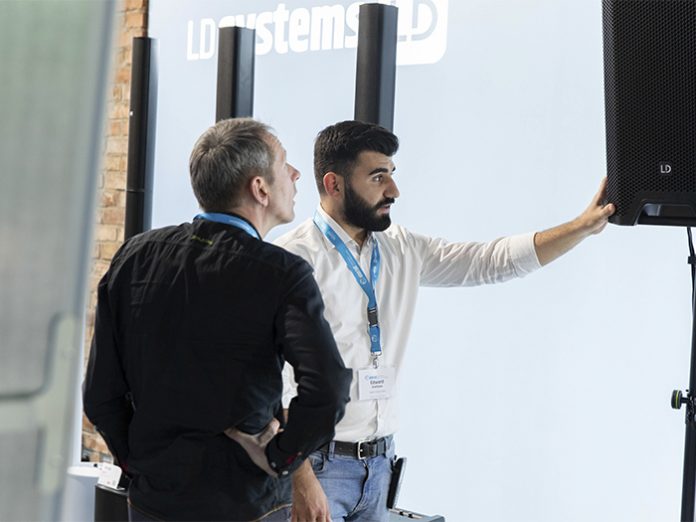 The Adam Hall Group organised the second edition of its Event.Tech Days following the success of the premiere in 2018. The global event technology provider invited national and international rental and touring companies and event-tech engineers to the Adam Hall Experience Center at the company's headquarters in Neu-Anspach, near Frankfurt.
Besides presentations of the latest innovations in the Adam Hall Group brand portfolios — LD Systems, Cameo, Gravity, Palmer, and Defender — visitors were treated to a comprehensive Event.Tech program, which included keynote speeches from renowned speakers, a fascinating live show displaying pro audio and lighting technology solutions, expert lectures from renowned industry engineers, and an open 'Tech.Talks' format with the R&D and product management from the Adam Hall Group. The second Event.Tech Days 2019 culminated in a colourful evening event with live music, catering, and personal guided tours through the Adam Hall Experience Center.
Approximately 180 companies from the rental and touring industry made their way to the award-winning Adam Hall Experience Center – more than triple the number from last year's premier event. While the first day of the Event.Tech Days was reserved for companies from Germany, Austria, and Switzerland, the second day had a distinctly international flair, welcoming customers and professionals from all over Europe.
One of the highlights at this year's Event.Tech Days was the keynote speech delivered by Dirk Denoyelle, a top speaker, comedian, and LEGO Certified Professional from Belgium. In the speech, Dirk shared his wide experience on topics relating to change and innovation. In the afternoon, the focus turned to pro audio and lighting with guest speakers, Anselm Görtz and Herbert Bernstädt, both regarded as leading authorities in their respective fields of event technology.