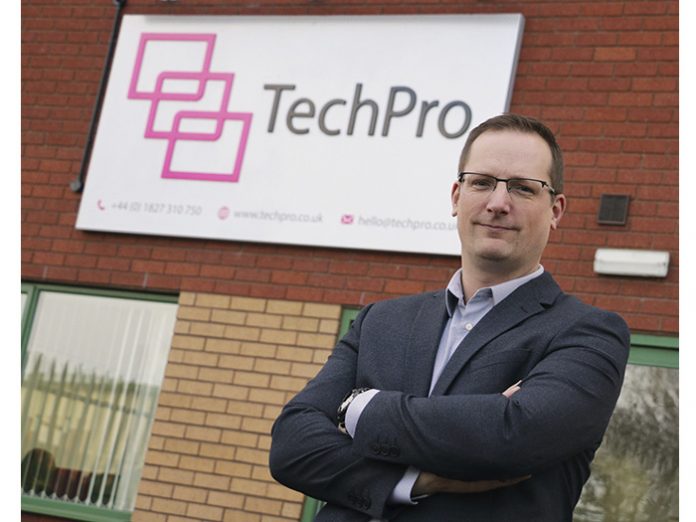 TechPro, a leading provider of lighting, video and sound services for the live events industry has announced a switch of role for Event Services Director Mike Foyle, who is now set to focus on improving the company's communication and collaboration with its clients.
Mike joined TechPro in 2012 as a Project Manager following more than a decade in an agency environment, covering all aspects of marketing and communication, but specialising in video production and live events.
His ability to help TechPro consistently deliver flawless events for its clients, saw him promoted to Event Services Director in 2015, a role in which he excelled at absorbing the stress of technical installations for the live events industry.
Commenting on the change Mike said: "This is a new role designed to help us engage better with our clients and understand more fully what they hope to achieve from their events, which will determine how best TechPro supports each production.
"We believe our technical proficiency and ability to manage projects successfully is a given for our clients; they know what to expect when they appoint TechPro – qualified technical teams, quality assured equipment and experienced project management. But there is so much more to our service beyond our technical equipment that we need to make our clients aware of.
"It is my role to ensure existing clients know about every aspect of our service and prospects understand why TechPro is the best choice for live events, from helping design the event and manage the project to integrating our equipment with in-house resources and rigging the event efficiently."
TechPro Managing Director Mark Stokes commented: "The significant growth we have achieved in recent years has been driven in large part by our commitment to the flawless delivery of live events, regardless of size or complexity. Whilst we recognise this continuing focus on service delivery is helping build our reputation, we
believe TechPro can still do better and that involves Mike getting closer to our clients."
This switch in focus for Mike, takes nothing away from our renowned project management abilities, or the resources at our disposal. The focus on our flawless delivery remains at the forefront of the projects team.
"We need to better understand how clients want our service to transform over the coming years to better reflect their changing needs – listening carefully will help us shape our future service offering. It's why we have developed this new role for Mike, who is the perfect choice with his technical knowledge in delivering live events. His experience in effectively and efficiently managing and delivering projects will be a big advantage when talking to clients and prospects" concluded Mark.