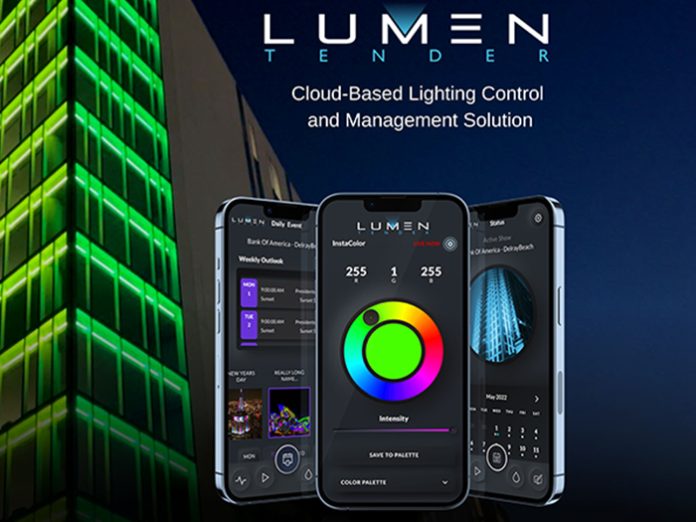 Tech LED has added Lumentender, a unique, cloud-based lighting control and management platform, from Lumentender Control Solutions Inc. (LCSI), to its distribution portfolio.
Lumentender is a cross-platform control solution for supported API-based lighting control systems. Currently compatible with select Madrix, Enttec, Pharos and Mosaic controls, with additional integrations underway, the product enables simple and intuitive scheduling and control of complex lighting systems. The Lumentender platform is also an essential management tool for agents and dealers to easily manage their accounts and support their customers' needs.
Features available to integrators and users include the simple scheduling, control, and management of single or multiple installations from any browser. Through its intuitive interface, installation managers can apply branding, or theme colours for special scenes such as St Patricks Day or Valentine's Day, using the Custom Lumescene CreatorTM.
Lumentender is suitable for every installation whether interior or exterior: from commercial building to entertainment complexes; from bridges and structures to art installations; the possibilities are infinite. As well as the scheduling of daily and special lighting events, Lumentender enables the user to take live control and manually trigger lighting scenes.
As a cloud-based system, Lumentender can be operated from anywhere around the globe, putting control directly into the hands of the user or integrator. Whilst the simplicity of the system allows the end user to manage the system themselves, there is an additional subscription option for third-party management via Tech LED.
Tech LED MD, Gordon Addison, said, "Tech LED prides itself on its innovative product portfolio and Lumentender really is unique. Having worked previously with the founders of the company, their reputation precedes them, and we've built a trusted relationship with LCSI. We're thrilled to add Lumentender as it's a powerful product and yet so simple to use. The product also comes with a free trial to demonstrate its capabilities before commitment."
John DiDomenico, Chief Executive Officer of Lumentender Control Solutions, Inc., added, "We are excited to work with Tech LED in furtherance of our goal of introducing the Lumentender platform to the global lighting industry. It was a natural choice to work with Tech LED in the UK lighting market because of their extensive product portfolio and commitment to providing the latest in control technology solutions."