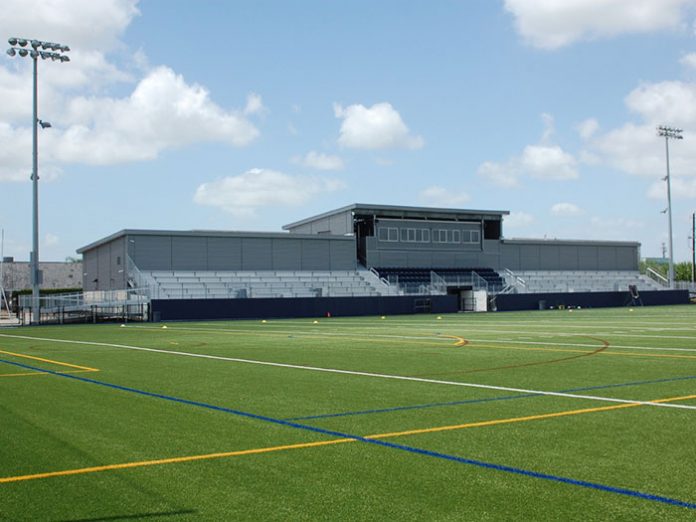 Located on 12 acres in the Link Valley community of southwest Houston, Emery/Weiner School is an independent Jewish day school serving grades 6 through 12. Its campus offers many impressive features, including state-of-the-art science and computer labs, art and music studios, a proscenium theatre, and a new, full-length football field, Caress Stadium. It's a high-quality school all the way, and the administration wanted its new football field equipped with a sound system to match.
To make it so, Facilities Manager Terry Nelson called on Houston design consultants touch thirty three, Inc (t33) to design and install a sound system based on Dante-enabled Symetrix Radius DSP.
t33 principal Bruce Coffman commented: "We were asked to bid on another design that we considered entirely ineffective. So we quickly rewrote the spec with the client."
Terry worked together with t33 to help install Bruce's design.
One of the biggest concerns was sound leakage into the surrounding community. The scoreboard is on the far side of the football field, and it abuts a fence with a street and some apartments behind it. At either end, 22 feet beyond the end zones are some really nice condos. It was of the utmost importance to do everything possible to minimise 'sonic intrusion' into those condos.
Accomplishing this required a DSP that could support a customised loudspeaker and a user-friendly control surface. The DSP also needed to manage an assisted listening system in the stadium, a stereo playback system in the weight room, 70V transmission throughout the facility, and control of the system with panels and wireless devices. The Radius was the obvious choice to handle it all while allowing Bruce's team to provide easy-to-use controls.
Remarkably, t33 specified a single loudspeaker to cover the entire field and seating area.
Bruce also stated how it's a single Fulcrum Acoustic AH463, driven with Powersoft amplification and mounted atop the scoreboard, and it has a very tightly defined coverage pattern. People can walk from the edge of the bleachers to the end zone, and past the end zone, the sound just goes away. The equipment was truly a perfect match for the intended application, and owners of the nearby condos could relax.
The system is compatible with Symetrix' ARC-3 universal-mount control panel, which provides control of basic audio functions, such as volume, source selection, and preset recalls, using a capacitive touch interface with LED highlighting for instant operational feedback. Symetrix' ARC-WEB delivers the desired wireless control of volume, mute, source selection, and other sound-system parameters from iOS and Android smartphones and tablets.
t33 installed a Mystery Electronics EasyMix EM12 DSP control surface, equipped with motorised faders and backlit LED button switches to provide level-fader functions, customisable control functions, and automation. As always, ease of use was a primary consideration. Anyone with a good grasp of English will be able to operate the EasyMix and it is easily configured for the Radius DSP.
To Bruce, one of the big advantages of Symetrix' programmed systems is the ability to implement as many managed controls as needed. Bruce stated that with the Radius DSP and Symetrix Composer programming software. He then set up the Caress Stadium system so as to push the faders as hard as they like, and it simply won't overload and damage the system. The worst a user can possibly do is overdrive and distort an input. The system is incredibly easy to use. Of course, Symetrix tech support and their generous programming assistance was another invaluable resource.
The results have been gratifying, as confirmed by Terry Nelson: "The system has far surpassed everyone's expectations. It's a very high-quality system, and everybody is really happy."
Bruce concluded with the following: "Word is already spreading in the community. We're getting ready to provide a virtually identical system for another school across town. We installed a system for them in 2007 but when they saw what we did at Emery/Weiner School, they decided they needed an update!"