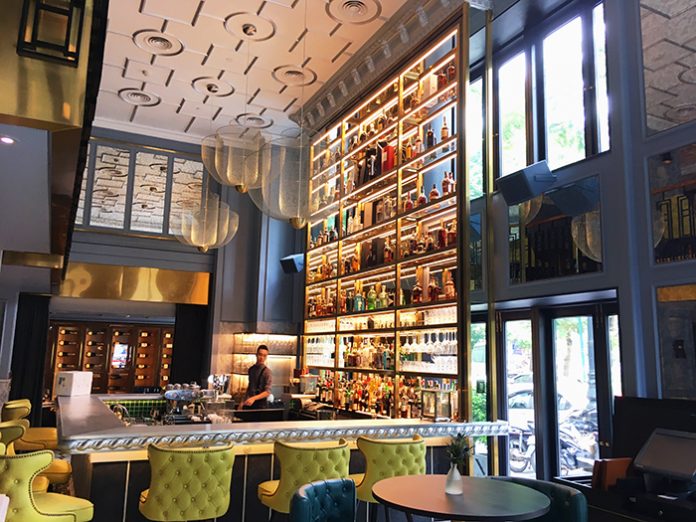 A recent concept change and complete rebuild for the Sofitel Legend Metropole in downtown Hanoi included a new sound system. Systems integrator DesignLive Technologies earned the contract with a tightly integrated, easy-to-use, customized solution based on a Symetrix Radius 12×8 EX audio DSP, Fulcrum Acoustic loudspeakers, Dynalite lighting control, an AMX NetLinx NX-series integrated controller, and iRidium for AMX touchscreen UI controls.
"With a special status as the premier exclusive venue in downtown Hanoi, the renovation of angelina was an important project where the client demanded no compromise on quality," observed DesignLive's Thu Ta. "angelina is segregated into many creative nooks and crannies for the elite to saunter and socialize. A back-end Symetrix Radius processor allows hotel staff to manage and manipulate discrete zones via a custom layout UI on an iPad, combining and separating spaces based on immediate requirements. The Radius 12×8 EX DSP's zone management tools also manage an exclusive private dining room, where an automated AV system enables boardroom meetings, digital signage, and private events."
Symetrix' Radius DSP provides 128 (64×64) redundant Dante channels for reliable multi-channel audio networking over IP. The Radius12x8 EX model provides 12 switchable balanced mic or line-level inputs with 48 volt phantom power for condenser microphones, as well as 8 line-level outputs. Built-in 10/100 and gigabit switches reduce or eliminate the need for peripheral switches, lowering system cost and increasing reliability.
The Radius 12×8 EX manages a Dante network that feeds Fulcrum Acoustic Prophile P 8-inch coaxial loudspeakers and US212 dual 12-inch direct-radiating subwoofers. Wall plates provide analog inputs into the network-especially useful for DJs-and DesignLive provided spare CAT6 cable drops around the venue to provide Dante network access throughout the space, enabling the staff to customize the audio configuration for various events. "To tie all the systems together, we installed an AMX NetLinx NX-series integrated controller," Thu reports. "A custom-programmed iRidium iPad control UI allows the venue's floor manager to manipulate light, sound, and visuals over Wi-Fi."
DesignLive Technologies has installed Symetrix-based systems in many fine venues but even for the accomplished system integration firm, the Sofitel Legend Metropole angelina was special. "DesignLive will always provide top quality systems for its clients," Thu commented. "The Sofitel Legend Metropole hotel is world renowned, and angelina is a superb venue. We were determined to live up to their high standards, delivering a system that was absolutely reliable and provided the finest audio quality available. We chose Symetrix DSPs because they are second to none in both respects."