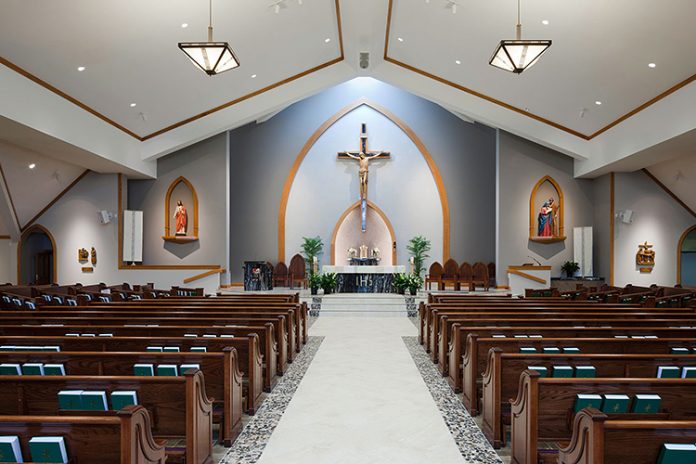 Having evolved from 165 families to its current flock of 3,500 families and nearly 11,000 members, St. Raphael Parish had outgrown its 50-year-old, 650-seat sanctuary. With no room on the property to expand the old church, the parish, located 15 miles west of Cleveland, replaced it with a new, fan-shaped sanctuary that efficiently seats 1,100 worshippers and a 100-voice choir.
Services at St. Raphael Church feature a choir, piano, electronic organ, and spoken word. The space follows a contemporary architectural design, so the acoustics weren't as complex as one often encounters with older-style churches. That made it much easier to design the sound system, which is managed by two Dante-networked Symetrix Radius 12×8 DSPs. "The Symetrix Radius provides all the parametric EQ and loudspeaker management we could ever need and then some," reported Dave Zarzycki, president of systems integrator Precision Multimedia of North Royalton, Ohio, which designed and installed the sound system.
"It's a unique situation in that acoustically, the room behaved as predicted," offered Dave. "We initially installed small left and right speakers to cover the sides and a centre speaker mounted at the peak area over the center of the stage. We used spray-on K13 acoustic ceiling treatment but not at the peak area because we wanted to preserve some reverberation for the choir and organ. That created some issues with the center speaker, so we swapped out the original speakers for column speakers in a left-right configuration, without a center speaker, and that did the job very well. Working with the architects was especially easy because my father's firm, Zarzycki-Malik, designed the building."
Dave's team installed a lot of mic inputs, including some at the rear of the church and at the base of the altar-"handy for plugging in a mic on a stand for wedding vows and such," Dave points out-as well as floor boxes near the altar, plus inputs for wireless mics. Those inputs are handled by one Radius 12×8. Another Radius 12×8 is located at the choir area and manages, among other things, the mics for the grand piano.
So far, the system had come together nicely. There remained one item to resolve – there were six hanging choir mics and no more DSP inputs. With the Radius 12×8 DSP, though, it wasn't an issue. "We added a Symetrix input expander to the card slot of the Radius 12×8 in the choir area, and that handles the choir mics," Dave explained.
Dave chose a Symetrix DSP for several reasons but the biggest was audio quality. "I ran a comparison with several competing DSPs," he detailed. "The Symetrix DSP sounded by far the most natural and uncolored. And I've never had a network issue with Symetrix. They're solid, they report on feedback and give me all kinds of data, they play extremely well with Crestron equipment, they support Dante, and they never drop offline."
A wall-mounted Crestron control panel at the entry to the sacristy provides level controls for the system. Another Crestron panel near the piano bench also offers control of volume, mutes, and source select. "It's all locked in, so end users just have faders and mutes, tagged to show what they are, with maximum levels set," note Dave. A Symetrix ARC-WEB control system enables management from an iPad, providing a mobile duplicate of the controls users see on the Crestron screen.
"The St. Raphael Church sound system is everything we hoped for," Dave confirmed. "The Symetrix Radius 12x8s were the right choice to manage the system, and the parish is very happy."