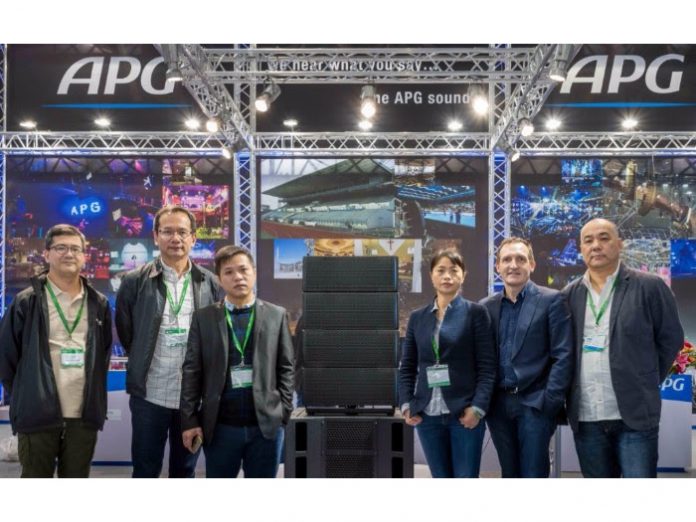 With an already successful presence in Asia thanks to a joint venture and historic distributors, French loudspeaker manufacturer APG took advantage of the recent Prolight + Sound Guangzhou trade show to announce new partnerships around APG North East Asia, the company's joint venture in Hong Kong.
The first expansion is evidenced in China where APG welcomed TRAudio, who will share responsibilities with APG's historical Chinese partner BVCam. "This partnership with TRAudio will focus on the entertainment sector, while BVCAM will keep doing the amazing job they have done for years in every other markets," explained Raymond Wong, Managing Director of APG North East Asia. "Being based in Guangzhou since 2011, TRAudio is ideally positioned to help us grow the brand in the entertainment market and in particular in the club scene, while giving the APG brand a more comprehensive coverage in China."
TR Audio's owner Huang Zhao enthused: "We are very happy to have the opportunity to work with APG, a brand with decades of experience in loudspeaker manufacture. We are looking forward to presenting their products to our network of clients in the entertainment market and creating new opportunities for APG."
BVCam's Director Danny Huen also welcomed the new partnership and is looking forward to seeing the APG brand grow further in China. "We've had a wonderful cooperation with APG for many years. We know the growing potential for the brand in China, especially when it comes to theatres and rental."
At the same time, APG announced its geographic expansion in Korea. Effective immediately, system integrator, Soundplace Inc. will act as APG's sole distributor in the Korean market. "We have been using APG for three years, and we were always impressed by the sound quality of their speakers.
"The audio industry in Korea is actively looking for loudspeakers that are capable of reproducing sound purity, so we are delighted to welcome APG into our product offering" explained Sang Woo Do, president of Soundplace Inc. The company is already working on several projects with APG that are set to be completed in 2017.
Commenting on the Korean appointment, Wong said: "Soundplace delivers exactly what we were looking for in Korea: An established and renowned presence in the theatre and houses of worship verticals. Their expertise in the fixed installation market will greatly contribute to the growth of the APG brand in Asia."