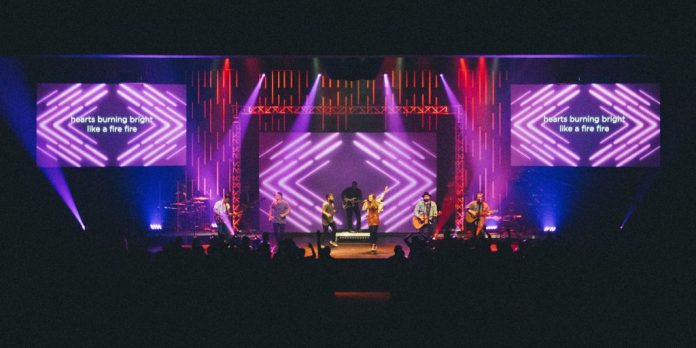 Sun Valley Community Church (SVCC) has been digging its roots ever deeper into the Southwest Christian community for the last quarter century. Originally starting with just two families who had a dream to reach the unchurched, today Sun Valley Community Church counts over 8,000 regular attendees meeting across five campuses.
Two of SVCC's locations – the 1,300-capacity Gilbert broadcast campus and 700-seat Queen Creek space, which opened in 2016 – recently became the initial sites for the church's bold experiment in sound using the Venue Flex surround sound PA system design developed by its AV systems provider, WAVE. Taking this remarkable immersive sound technology one step further, these two satellite locations of Sun Valley Community Church will be the first anywhere to integrate KLANG:technologies' KLANG:fabrik 3D IEM audio-mixing system with an immersive PA design, bringing the church's live band into a truly surround sound environment.
Using custom DSP algorithms, WAVE's custom Venue Flex system allows the FOH engineer the ability to create a livelier, more authentic-sounding sonic environment by directing delayed and processed signals to surround speakers, simulating reflections off the walls of the space. For music, the benefit is a more natural-sounding room while keeping that environment acoustically optimized for high-impact worship and spoken word that require a more controlled acoustical environment for intelligibility.
The KLANG:fabrik 3D in-ear mixing solution is a perfect fit for that application, says Armando Fullwood, executive director at WAVE's main office in Harrisburg, North Carolina. "The way our Venue Flex system works fits extremely well with how KLANG works," he says. "Both systems are intended to make the environment in which music is performed and heard as natural as possible, as through there wasn't a sound system between the performers and the audience. When KLANG came out, we immediately saw how it would fit in with the Venue Flex methodology."
Fullwood and his team first saw and heard the KLANG:fabrik system at the 2016 Winter NAMM Show in Anaheim. That was a few months before Mike Ward, the audio director at Sun Valley Community Church, encountered them at the InfoComm Show in Las Vegas in June of that year.
"I'm a musician who is also a sound guy, so I know the value of a natural-sounding monitor system," says Ward. "I saw that the KLANG system would give our musicians a greater level of control over their own monitor mixes while eliminating the need for a separate monitor console and a dedicated monitor engineer. At the same time, it lightens my workload at the FOH position because I don't have to worry about mixing monitors from the FOH console. I can just send 24 channels of audio down a single cable, over a Dante network, and the musicians on stage have up to eight stereo mixes each of them can personalize using their own smartphones or tablets. And I'm running the KLANG:fabrik 3D app on a computer, so I can interact with any of them at any time if they need help with the system. It's been hugely effective for us."
Ward says that KLANG:fabrik also integrates well with the DiGiCo SD8 console recently installed at the Gilbert campus as part of its audio upgrade, and with the DiGiCo S21 that's now part of the audio system at the Queen Creek campus. "We're planning on switching all of our consoles to DiGiCo, because they sound great and that gives us consistent platforms to work with at every location," he explains. "And the DiGiCo consoles are a good fit with the KLANG:fabrik 3D systems, which we'll also eventually have at all of the locations thanks to the Dante compatibility they both have."
Ward and Fullwood both credit KLANG:fabrik as a way to set their church and services apart. Its technology allows features such as 3D placement of sound sources within a two-channel mix, including the option of facilitating head-tracking: a musician can turn his or her head and the mix dynamically changes as the placement of sounds follow head position, as it does in real life. "It's an amazing IEM system and it takes monitoring to the next level," says Ward. "The sound quality and flexibility of these KLANG mixes are far superior to their market competitors and, in many cases, surprisingly less expensive."
Fullwood sees KLANG:fabrik as further propelling the implementation of immersive audio. "3D sound is excellent for music anywhere, especially in houses of worship," he says. "And the KLANG:fabrik 3D audio-mixing system allows the band on stage to be part of that now."