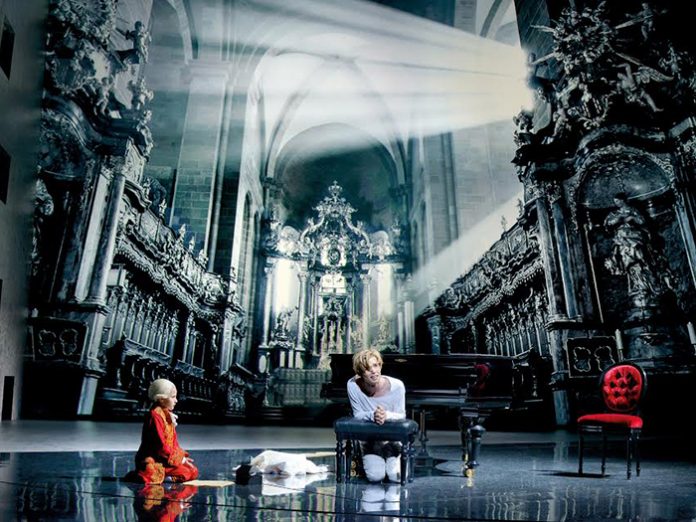 German production company La Belle Musical saw in 2017 with a truly international production of Mozart! for Chinese fans of musical theatre at the Shanghai Culture Square, PRC. The production, which combines high-tech contemporary scenography with period costumes, addresses the life and works of Wolfgang Amadeus Mozart, and features an advanced spatial sound design by award winning Swiss Designer, Tom Strebel of audiopool. The sound system was supplied entirely from Germany by Feedback Show Systems, who purchased a TiMax SoundHub audio delay-matrix processor to meet Tom's exacting spatial amplification system spec.
For Tom, the inclusion of TiMax to sympathetically amplify a full company of radio-mic'd actors across a multi-channel distributed speaker system was a given. He explained that, "..it is simply not satisfying without. I have used TiMax for almost every production since 2006 when I did the sound design for Basel Tattoo. For me, there is no alternative."
For Mozart! the theatre's main house L/R system comprising 24 active JBL line array cabinets carried the band and music mix elements. The distributed vocal system specified by Strebel used three LA Acoustics ARCS WIDE as a point source at the proscenium, supporting further vocal system elements comprised of eight Turbosound TFH 600H cabinets. There were also four front fills at the proscenium and two LA Acoustics X12 Coax boxes as outfill. Three LA Acoustics X8 loudspeakers provide under balcony delay.
Tom Strebel was very happy with the resulting spatial sound reinforcement outcome: "When everything is set correctly the final result is absolutely pure and natural music. No unwanted delays and echoes and everything in place." He added, "It is very important for me, that in all of the seats in a theatre you hear the actor from where he actually is on stage; so you hear a voice where it is generated instead of coming out of a loudspeaker. This can only be achieved by an active level/time matrix, and hence only by TiMax."
www.outboard.co.uk