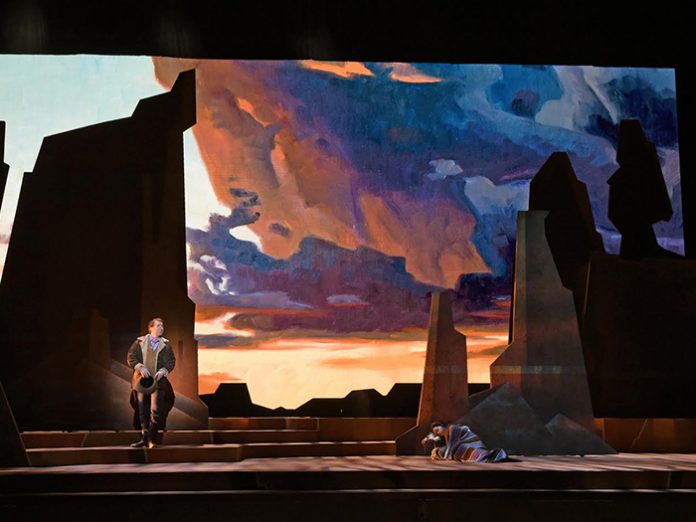 Composer Craig Bohmler was on a hiking trip through Arizona's Tonto National Forest five years ago, when he came upon a small museum dedicated to Zane Grey, the prolific writer (64 novels and over 300 short stories) of American cowboy sagas. Intrigued, Craig began reading Grey's Riders of the Purple Sage. Not long into the book, the composer envisioned turning the 1912 romantic story into an opera. His vision became a reality this March as The Arizona Opera premiered Riders of the Purple Sage, directed by Fenlon Lamb at Phoenix Symphony Hall.
Supporting the drama on stage and accenting its evocative scenic elements was a flexible and richly coloured lighting design by Greg Hirsch that included COLORado 2-Quad Zoom fixtures from CHAUVET Professional. The Resident Lighting Designer and Director of Production at The Arizona Opera, Greg positioned 17 of the RGBW fixtures in his overhead electronics, using them to create an even field of light over the stage."We have the COLORado 2-Quad Zooms in our inventory, so we use them quite often," said Greg. "For Riders of the Purple Sage we relied on them to provide coverage for the opera's large and very open scenic design."
With their rich colours and wide 14°-44° zoom angle, the COLORado 2-Quad Zoom fixtures have been particularly effective at bringing out the full aesthetic qualities of Arizona artist Ed Mell's redolent scenic designs of the 19th century western frontier. "To a significant degree, these performers in this opera are inhabiting an Ed Mell painting," said Greg. "This makes it very important to light the entire space, particularly in the more open vistas, so that we keep the feel of Ed's work alive. At the same time, though, we have be concerned about illuminating the singers and serving the score and libretto."
The COLORado 2-Quad Zoom fixtures have played a key role in helping Hirsch achieve the balance between broad and narrow lighting. "Their zooming capabilities allow good spacing and give an even field over the stage," he said of the fixtures. "They also have the ability through their zoom feature to concentrate light on a specific area to make it stand out from the rest of the scene. When focused on individual performers, the fixtures helped bring out the beauty of Kathleen Trott's costume designs."
Describing the opera's set as "a really a large canyon surrounded by walls," Greg emphasised that it was critical that his lighting underscore a feeling of open space within those confines. He also counted on them to add warmth and impact during the opera's more romantic scenes.
Greg's design also had to account for some intense action scenes within the opera, like a stampede, a destructive ranch house fire and an avalanche. He accomplished this with a combination of lighting, front scrim projection and a massive upstage video wall.
"We created some powerful looks for this show as a team," said Greg. "Joseph Spector, the President and General Director of Arizona Opera, gave us a lot of support to do something special. Projection Designer Jake Pinholster and Co-Projection Design Michael Bateman helped make my job as a lighting designer much easier."
As one observer noted, a Western novel might not be the first thing that comes to mind when you think of opera, but The Arizona Opera's spectacular production of Riders of the Purple Sage made it seem as natural and beautiful as a Grand Canyon sunset.
www.chauvetprofessional.co.uk.