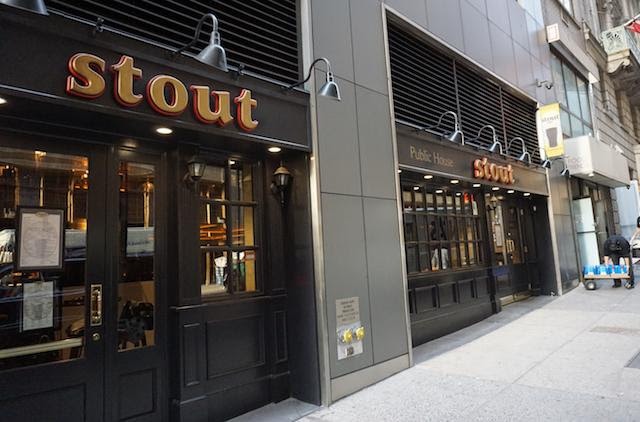 For more than a decade, Stout has enjoyed a well-established a reputation as one of Manhattan's most popular gathering houses. The warm and welcoming Irish pub's original location across from Madison Square Garden, opened in 2005, was augmented in 2015 with the opening of Stout FiDi in the city's Wall Street District. Recently Stout has expanded to a third location with Stout NYC Grand Central, a bustling bar and eatery just off Park Avenue.
Stout NYC Grand Central's capacious two-story layout includes a front bar, main dining area and central bar downstairs, and a second bar, dining area, and private party room upstairs. The open floor plan presented some challenges in distributing sound adequately, explains Richard Trombitas of Cardone, Solomon Associates, New York.
"It's an interesting space," Richard observed. "The front area is very open, with a high ceiling and lots of glass. It's a very reflective environment, and the sound carries well into the main bar area."
Richard worked together with audiovisual contractors Starview Satellite to implement a sound system based around Renkus-Heinz PNX82 two-way complex conic loudspeaker systems. "We have six PNX82 cabinets mounted around the periphery of the bar, configured for 120 degree by 60 degree and 90 degree by 60 degree coverage patterns," Richard explained.
"The PNX82 is an exceptionally flat and even sounding speaker-very accurate, and works well with a wide range of music," added Richard. "With proper positioning and layout, we were able to achieve completely seamless coverage around the entire periphery of the room, and every person seated at the bar has the exact same audio experience."
"The sound quality of the PNX82 is just sensational," said Starview Satellite President, John Paturno. "We get compliments all the time on how great the music sounds, everywhere in the building."
Richard concluded: "People remark regularly that they're able to listen to music at a very substantial level, and really be involved in the music, and yet still not have to raise their voices to hold a conversation."