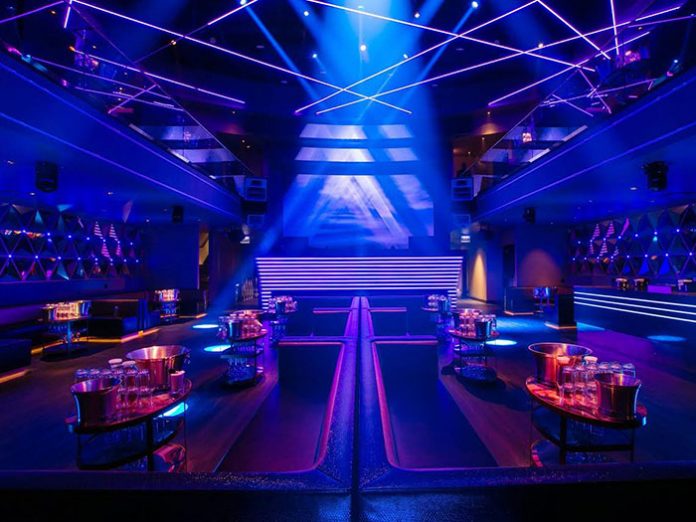 Prysm, a bold new club opened this summer, bringing crowds, A-list guests and an electrifying sense of excitement back to the neighborhood near North and Clybourn.
Promising guests "an elevated luxury nightclub experience," Prysm owners Jeff Callahan, Nick Karounos and Lucas King are true to their word.  The two-story club conveys lounge-like elegance with its high ceilings and sleek décor created by Miami designer Francois Frossard. Setting the mood for both dimensions of Prysm is a multi-faceted lighting design by Steve Lieberman of SJ Lighting that features an impressive collection of Rogue and strike fixtures from Chauvet Professional.
"This club really combines two very distinct experiences for guests," said Lieberman. "There are areas that offer an intimate lounge experience and a dance floor that sweeps you up with excitement. We created the lighting design to support both dimensions".
Lieberman used eight Rogue R1 Wash fixtures, six Rogue R2 Washes and four Strike 324 LED strobes in the club's main room; as well as spot/wash hybrids, beams and LED tape. In the 200-person VIP room, he used four Rogue R1 Spots and eight Rogue R1 Washes. The system in both rooms is controlled by MA software on a PC with an MA Command Wing and MA Fader Wing interface.
Flown on strut over the dance floor, the main room Rogue fixtures are used to sweep the area with brightly colored light. They also wash the banquet area to the side of the dance floor and the club's large state-of-the-art DJ booth. Additionally, the Rogues provide special looks for Prysm performances by visiting stars like DJ Mustard, Zedd, Hardwell and Drake. "The Rogue washes are fast, which helps create some dynamic looks," said Lieberman. "They also have a wide zoom range, which helps cover a large area during guest performances.
Lieberman positioned a single Strike 324 in each of the four corners of the club's main room, all pointed directly at the center of the dance floor. "The targeted strobing working with the wash sweeps from the Rogues and the crossing beams, creates energy on the dance floor without disrupting the lounge atmosphere in other areas," he said.
In the VIP room, Lieberman creates a more laid back sense of texture with atmospheric lighting from the Rogue R1 Spot with its 3-facet prism, beam shaping capabilities and dual gobo wheels. "Prysm was designed to support the different moods guests can have at different times," he said. "Lighting was important to helping fulfill this concept."