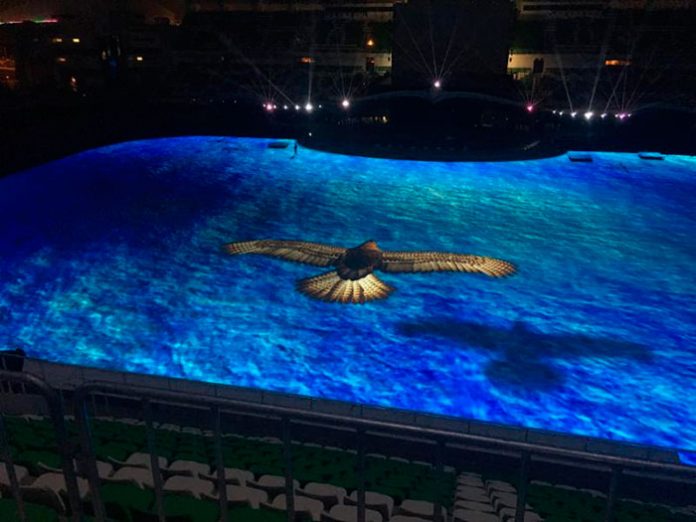 Visual production expert FIX8Group successfully managed and delivered a complex projection and content management project for an event staged by Turkish construction group Polimeks for the Government of Turkmenistan to launch the country's brand new, state of the art international airport.
FIX8Group sent in one of its top projection mapping teams for the unusual ten-day project, which culminated in a mixed media spectacular that centred around Turkmenistan culture and history. Held on 17th September at Ashgabat Stadium, the event was attended by more than 20,000 people.
Leading the team was FIX8Group's media server engineer Nick Charalampidis who was accompanied by projects director/projectionist guru Paul Williams and media programmer Fraser Walker. Working closely with technical director Sedat Gunduz and creative director Candas Sisman, FIX8 liaised with Turkey-based rental company Phantom Event Engineering and creative content creators NOHlab and Illusionist. FIX8Group's responsibilities were to line up and blend the 40 high output stacked projectors in order to evenly cover the whole stadium floor, manage the content and media programming, and ensure the seamless delivery of the many graphical elements of the show.
Prior to the team's arrival at Ashgabat Stadium, Gunduz organised for the entire 104x70m projection area to be mapped out into a 2x2m grid, which was then marked out with small studs hammered into the floor. This helped the FIX8 team to pinpoint where each projection plate would start, end and blend.
"FIX8Group is my company of choice for these large scale projection projects," says Gunduz. "I knew this would be a challenging project. Nick Charalampidis was kept extremely busy as the video and music content was constantly being updated throughout the production process. In total nearly 735GB of content had to be managed across 16 servers. As ever Nick managed to make sure every piece of content was encoded and ready for the ten-strong content design team to view on the system."
To ensure high impact visuals FIX8 worked with forty 20,000 lumen Panasonic PT-DZ21k projectors, supplied by VER and Phantom Event Engineering, and these were arranged in 10 stacks of four. Williams and Walker worked from dusk 'til dawn over seven sessions to align and warp each output.
At the control end of the system Charalampidis selected eight Hippotizer V3 HD i7 Media Servers to encode the huge variety of content: "I chose the rock solid workhorse Hippotizer V3 HD i7. We air freighted eight of our own units in a system that FIX8Group designed and built to handle 16 machines in total. Phantom then supplied eight back up machines, which I patched in on site. The whole system was controlled from a MA Lighting Grand MA2 Light console. We have invested a lot of time designing our own console profiles (GUI interfaces) and layouts in order to cover all possible requirements across both lighting and video enabling us to speedily adjust a lot of parameters at once. This came in very handy on this particular project."
Charalampidis concludes: "We would like to say a massive thank you to the Phantom crew who, despite the small matter of a language barrier, worked tirelessly to help us in any way they could – the project would have not been possible without them. Throughout the ten days we were incorporating new content and music into the show – even after the final dress rehearsal. This meant we had to reprogram the entire show and all of its timecode offsets without seeing it again until the final performance. Nevertheless, the show looked stunning – so much so that the President of Turkmenistan asked if all the equipment could stay for another night as he wanted to 'have another concert tomorrow'. Unfortunately, we had to decline as the next show was calling already!"