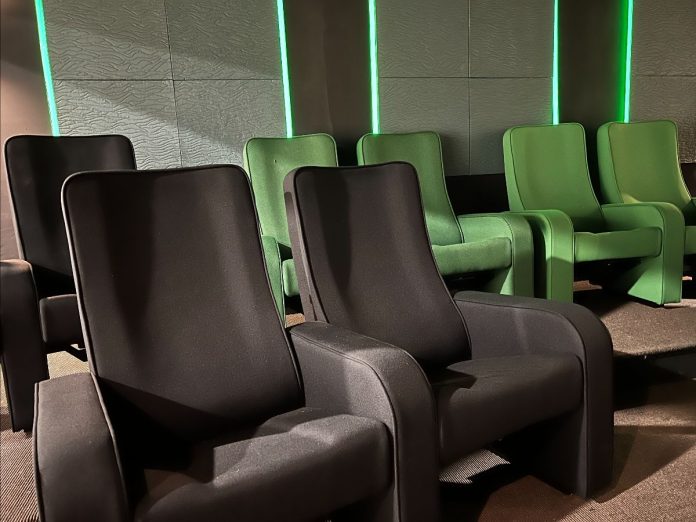 Stefanie Fischer will be speaking at CineEurope about InventaCinema's successful feasibility study funded via a UK grant.
The low carbon approach defining InventaCinema's vision reduces embodied and operational carbon in comparison with a conventional model of cinema design and development.
First, InventaCinema selected products for the fit-out with a low environmental impact. It was able to reduce the operational cost for accent lighting by using StepGuard's Light Tape electroluminescent lamps. 
Light Tape produces no heat during operation and utilises less than one watt a metre to operate, also producing zero light pollution. Light Tape works perfectly with the new high-definition laser projector technology.
Next, to reduce the embodied carbon, the amount of carbon released when building a cinema in this case, InventaCinema focused on reducing the carbon released during construction by delivering prefabricated modular combinations of screen size and seating capacity.
The construction methods were also changed, such as a new stadium floor design to improve visibility and airflow while adopting new structural building materials.
Thanks to InventaCinema, a concept for a low carbon modular neighbourhood cinema being a collaboration between InventaCinema Ltd and Agile Properties and Homes, and sponsored by Light Tape, Ferco, Camira, Mogu Bio, and Graphenstone.
Completed in December 2022, the proof of concept feasibility study demonstrated that InventaCinema was a net zero carbon-negative cinema.
CineEurope will be held in Barcelona from the 19th-22nd June. StepGuard with Light Tape inside will be exhibiting in booth 412.