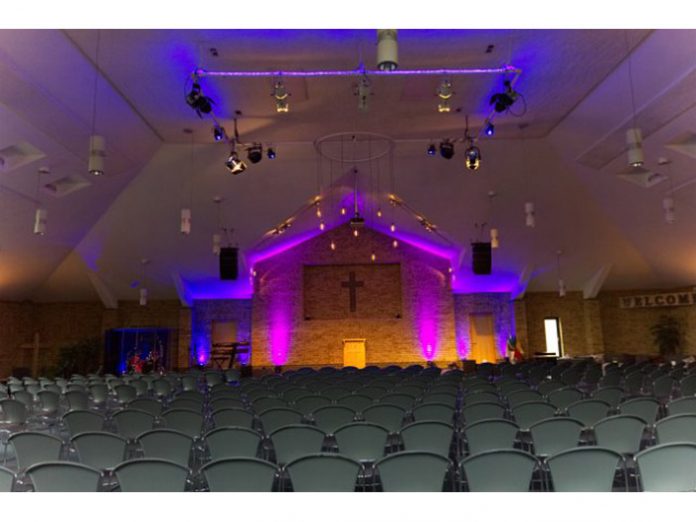 Reigate Baptist Church moved to its permanent home on the outskirts of Reigate in Surrey in 2005. The move took place after more than ten years of the congregation meeting in various venues before building and moving into their own purpose-built site. This required unwavering belief and dedication. This same belief and dedication was inherent in the planning of its new audio system, purchased from Stage Electrics.
Matt Kefford has been Gathering Pastor at the Church for the past five years. He is an electrician by trade, but also a musician with experience as a sound engineer. He was the driving force behind the audio upgrade and managed both the purchase and installation of the new system.
"One of the things we had always struggled with during services was audio clarity," he said. "It was like the mix was always muddy no matter what we did, and we couldn't have it very loud because the sound wasn't pleasant. I found it so frustrating."
Determined he would improve things, Matt set about getting quotes to update the equipment, sending out feelers to a number of different companies, amongst which was Stage Electrics.
"I got a call from Stage Electrics who told me they had the ideal person to help. They said he had done a lot of work in churches, so would be perfect as he could share his experience with us."
This was Stage Electric's Jamie Gosney and shortly after that conversation, Jamie contacted Matt to arrange a meeting to talk through the church's requirements and make suggestions about what would and would not work.
"We were still paying the mortgage on the new property, so we didn't have the money spare to buy anything," said Matt. "But it's my passion to do everything as well as I can, so I was inspired go away and try to write a grant application."
Over a frustrating period of applications that did not come to fruition, Jamie and Matt kept in touch.
"In fact, Jamie even came and recorded a live album of our church band for us, which we still use," Matt smiled. "Then, finally, late last year, we were able to release the funds to do the project."
In the intervening time, Stage Electrics had demoed several different systems for the church, with the final choice being to purchase a DiGiCo S31 digital mixing console along with an EM Acoustics Halo C line array loudspeaker system, which comprises two hangs of four Halo C along with two EMS118 subs.
"A soon as I heard the EM system, I just thought, 'Wow, this is incredible!'," said Matt. "And it had the added bonus of being more cost effective than some of the other systems we'd heard."
"As well as its incredible clarity, we suggested Halo C because it has a wide horizontal dispersion which suits the configuration of the auditorium, which is wide, but shallow in depth," explained Jamie. "The previous system the church had was point source. It was very difficult to control in terms of coverage and tricky to keep off the hard surfaces of the building – the interior of the church has a lot of brickwork and glass which, along with its peculiar shape [the back wall of the auditorium is curved] were causing acoustic issues. Using Halo C meant we could direct the sound into the congregation and keep it off the reflective surfaces as much as possible."
"We also wanted to make sure the system wasn't too imposing," added Stage Electrics' Paul Roughton, who worked alongside Jamie to complete the sale. "The church is very modern and its clean lines required a compact system, so the EM solution was perfect and fits nicely with the aesthetics of the building."
From an operational point of view, the church has some competent musicians and a couple experienced sound engineers, so the combination of the DiGiCo S31 and the EM line array has provided the perfect solution.
"We provided training on the S31," said Jamie. "The desk is very intuitive, a number of presets can be saved for the varied events that take place at the church and it can be set up with a single mic for small meetings if necessary. So, although the church is lucky enough to have engineering expertise, which isn't always the case, it doesn't actually need an experienced operator for every meeting."
The church has also invested in Sennheiser microphones, some of which were in its existing inventory, chosen because of their clarity and through Jamie's recommendation. It has more recently added two ew D1 Vocal Set with e945 super-carioid capsule and a wired e945 microphone to its stock.
"The clarity, the signal range, everything is superb," said Matt. "The mic sits a considerable distance away from people's faces and it still picks everything up perfectly without any distortion. It's phenomenal."
Whilst Stage Electrics demonstrated and supplied and commissioned the new system, Matt has been equally as impressed with the service from all the manufacturers involved as he is with the equipment.
"The process from initial enquiry to installation has taken several years for different reasons. Jamie really impressed me with his professionalism; not only with his advice and experience but also because he valued us as customers; always making us feel like he wanted to spend time with us rather than just sell us a system and that same customer services goes for the manufacturers, too.
"We now have a great sounding system and suppliers we like and trust. I really couldn't ask for more."
For more information please visit www.reigatebaptistchurch.com.