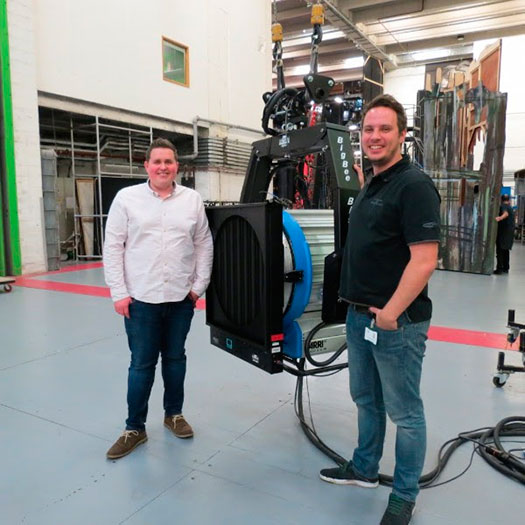 In November, The Royal Opera House in London's Covent Garden staged Morgen und Abend (Morning and Evening), a new commission from Georg Friedrich Haas. Lighting director Giuseppe Di Iorio wanted a large, high output Fresnel fixture to represent the Sun, so he turned to Stage Electrics for help.
Based on a novel by Jon Fosse, the opera tells the story of Johannes, a fisherman who finds himself in conversation with long-dead loved ones, eventually understanding that he is also dead. Co-produced with Deutsche Oper Berlin, the show's design replicated the almost dreamlike images in Johannes' mind. So bringing the harshness of bright sunlight to the opera's monochrome set was key to Giuseppe's lighting design.
As the fixture was representing the sun, it would also have to move over and across the stage during the production. This required the building of a large tracking truss with a carriage for the unit to ride on, which also brought up the issue that the chosen luminaire would have to turn as it moved along the track.
Stage Electrics business development manager Mark Burnett arranged a demonstration of four fixtures – HMIs ranging in output from 6kW to 18kW, plus a 24kW tungsten Fresnel. Giuseppe chose the 18kW HMI, thanks to its excellent light output and quality.
When it came to the arm that the fixture could turn on, The Royal Opera already has stock of Licht-Technik arms for its smaller HMIs and investigation by the lighting team found that the company manufactures the much larger BigBee, which fitted the bill perfectly, as well as a suitable shutter.
"As the requirement became more complex, we found that hiring such a bespoke fixture for the period we needed was going to be both difficult and cost-prohibitive. So we decided to purchase it," says Nathan White, Lighting Systems Technician at the Royal Opera House.
"After all the excellent help Mark gave us with the demo, we asked Stage Electrics to quote us for the fixture and all the added extras. They offered a very competitive price and, with their always-excellent customer service, were the ideal choice."
The products supplied were the ArriMAX 18kW HMI Head and Ballast, plus a Licht-Technik BigBee Moving Arm and DarkVader Dimming Shutter. The sheer size of the unit ensured that delivery and installation provided some interesting logistical challenges.
"As with all shows, we had a very tight timeframe in which to get the unit delivered, working and installed for the first rehearsal, but Mark and his colleague Pete White were excellent throughout, managing to get everything to us with time to spare," says Nathan. "The customer care provided by Stage Electrics was excellent the whole way through the project, no problem was too small."
Mark Burnett concluded: "We managed to supply the equipment in a very short timescale and are delighted that we were able to meet the Royal Opera House's deadline."