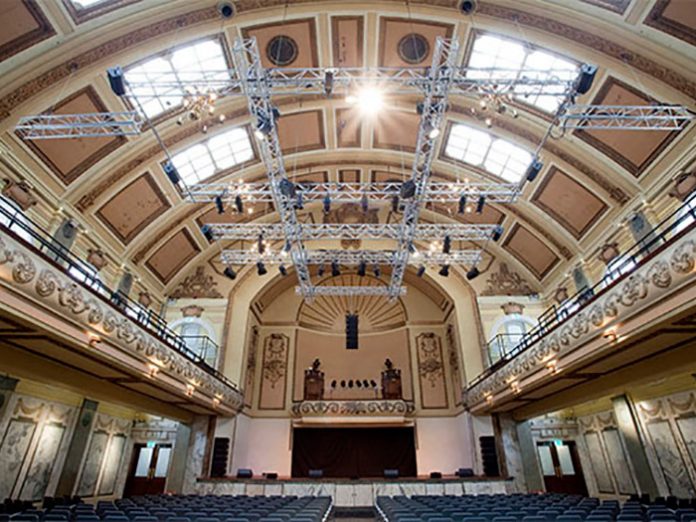 Shoreditch Town Hall has been at the heart of the London borough that it was built to serve for 140 years. Since 2002 the Grade II listed building has enjoyed a renewed lease of life, the latest phase of which has been a new sound and lighting system in its Assembly Hall, designed and installed by Stage Electrics.
Built as a landmark centre of civic life, the Town Hall has had a colourful, and sometimes chequered, history. A steady decline from the 1960's onwards was finally halted by Shoreditch Town Hall Trust in 2002, which obtained a 99-year lease on the building from the London Borough of Hackney and commissioned the first phase of a large-scale restoration.
Reopened in 2004, nowadays the building is home to a busy year round programme of events and live performance, from contemporary theatre and dance, to conferences and corporate dinners, film shoots to exhibitions.
Since Director, Nick Giles' appointment in October 2011, £2.1m had been raised and invested in the building, allowing for important restoration work and technical upgrades to take place. A recent initiative has been to bring the building's Assembly Hall back into full use by restoring the balcony, including reinstalling the seating which had been removed in the 1960's. With the hall now accommodating up to 750 patrons, the latest phase of this project saw the provision of a sound reinforcement system for the first time, as well as fully dismountable rigging and lighting – allowing the space to be returned to its original dry state as required
"I know Stage Electrics very well, I have an excellent working relationship with technical Sales Consultant, Paul Roughton, built over a number of years, when I was a freelance engineer, which is one that I value. So they were the natural choice to approach when we needed a new audio system," said Ian Moore, the venue's Head of Production.
Working with Paul, Ian looked at a number of systems. EM Acoustics offered the best value for money and its solution fully realised the technical capacity of the space.
It includes a flown L-C-R system, each array comprising six Halo C with Halo C Master flying grids. These are complemented by two EMS118 subs, three EMS61 front fills, eight EMS81X balcony side fills and four MC12 stage monitors. The system is powered by four DQ20 four channel amplifiers. For mixing, a compact Yamaha QL1 digital mixing console and Rio3224-D i/o unit was supplied.
"The system needed to be small enough to store out of the Assembly Hall if needed, not too cumbersome to allow quick build/get out and to be portable between spaces if needed," said Paul. "To assist with this, we also supplied pole mounts, to allow the Halo C to be mounted above the subs in different spaces, when required."
Stage Electrics also supplied a lighting system comprising a full lantern package made up of Avolites T4 48-way dimmer rack, ETC Ion control desk complete with touring Net3 Node and all cabling, rigging and power distribution and ex-hire lights completing the package.
An historic, and in Shoreditch Town Hall's case a Grade II listed, building always throws up challenges for modern production infrastructure. In this case great care needed to be taken to route cables in existing runs, to ensure that the building's historic appearance was not compromised
"Acoustically the Assembly Hall was a tricky space because there is a lot of beautiful, but highly reflective marble," said Ian. "Some acoustic dampening work has been carried out recently, and the sound is carefully managed to achieve focus. With careful set up and assistance from the Stage Electrics team, we have achieved a very nice sounding room.
"We're now using the balcony in the way it was intended for the first time in many years, which is rewarding. We have already done a few shows with the new system and there has been a lot of really great feedback about how good the sound is. It's going to be very exciting to see the space come into its own now that it can operate fully as a performance venue."