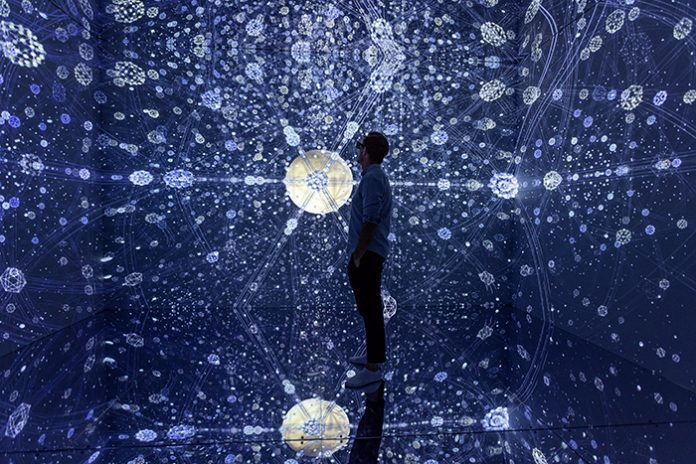 ST Engineering Antycip created the portable 3D CAVE used for the mind-boggling new artwork, ATOM, unveiled in Rennes, Britanny.
ATOM is part of a series of ten works created by digital artist and musician Yann Nguema for the exhibition PRISM. Specially designed for immersive stereoscopic spaces, ATOM sees Nguema taking advantage of the creative possibilities offered by the CAVE format to explore the abilities of 4D polytopes.
Described as an 'infinity CAVE', the ST Engineering Antycip-built space is designed for quick set-up and dismantling for easy transportation. It can accommodate ten guests, each equipped with active 3D glasses.
Arnaud Doucet, director of production for Anima Lux, the production company behind PRISM, explains that the visual content for ATOM was created using the stereoscopic technique, with visitors viewing two distinct pictures – one in the left eye and one in the right – at any one time.
Doucet stated: "Shifting between these two images to obtain the 3D effect is more complex to implement than on a standard 3D screen". The software uses generative images to create both equirectangular and fisheye videos of a very high quality (16K, or 4K in real time).
The front, left and right sides of the infinity CAVE are rear-projection screens, while the other three surfaces (rear, floor and ceiling) are mirrored to give the effect of no longer being present in physical space.
Doucet continued: "Unlike with VR headsets, here the spectators are part of the space and integrated into the 3D projection, giving the impression that their bodies are levitating in a virtual universe. It's an experience both for the senses and the emotions."
The projectors – three Digital Projection E-Vision Laser 13000 WU models – are placed around the immersive device, projecting on the left, right and centre panels of the CAVE.
The 5m-square by 3m-high space is additionally equipped with a 3D spatial sound system to provide a high degree of acoustic immersion.
Though designed for the ATOM project, the CAVE will in future host other projection and research projects, according to Anima Lux.
Johan Besnainou, ST Engineering Antycip's regional director for France and Spain, said: "We are extremely proud to have been involved in this fantastic project, which combines art, technology and science."