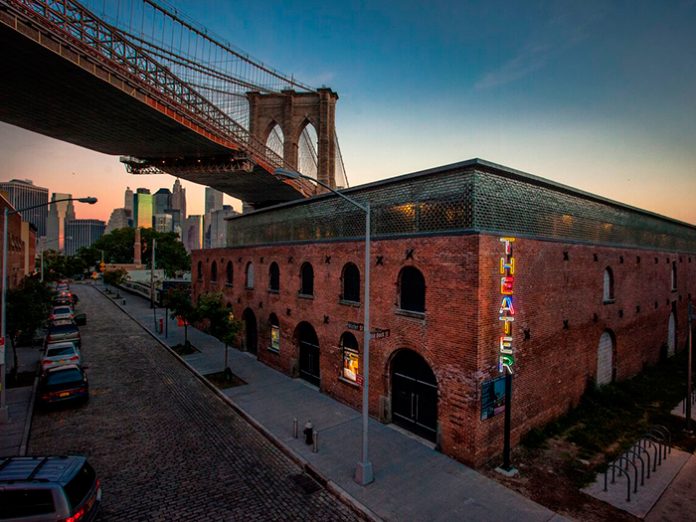 St. Ann's Warehouse recently opened its doors to its brand new $31.6-million, 25,000 sq-ft theatre, transforming Brooklyn's historic Tobacco Warehouse into its permanent home, and a year-round performing arts facility and community hub. Masque Sound, a leading theatrical sound reinforcement, installation and design company, provided the backbone infrastructure for the facility's brand new AV system.
For the past 34 years, St Ann's has become one of New York City's most important and compelling destinations for live performance worldwide. The new theatre represents the achievement of attaining a permanent space for the organisation that, since 1980, has brought about multiple opportunities for cultural use in downtown Brooklyn.
Founded to stimulate the adaptive reuse of the landmark Church of St. Ann and the Holy Trinity, and subsequently two warehouses in the up-and-coming neighbourhood of DUMBO since 2001, St. Ann's Warehouse now stands ready to bring theatre to Brooklyn Bridge Park.
The audiovisual system for the new facility was designed and specified by theatre consultants Charcoalblue, who also designed the stage lighting and rigging systems in the space. St. Ann's Warehouse called on Masque Sound to provide the backbone infrastructure for the AV system, which included the wire pull and terminations for all low voltage AV wire. This also included the main infrastructure of wire runs from individual panel locations to the main rack room. Masque Sound also installed all of the custom fabricated panels as well as the 70-volt system for paging and program.
"The new space is really versatile, and can be used in a traditional proscenium capacity or in the round- or three-quarter thrust," said Gabriel Bennett, Masque Sound Project Manager and Systems Engineer. "The new system is completely modular, which provides for a wide open space that can be treated in a variety of ways. This is very exciting for the theatre itself."
The iconic, pre-Civil War structure includes a large, versatile theatre space with capacity for 300 to 700 people. This can accommodate St. Ann's core theatre and music programming, large-scale festivals and special community milestone events. A clerestory ribbon of clear glass bricks bridges the original brick walls and the roof of the new theatre.
In all, Masque Sound provided 68,000 feet of THHN wire for speakers, 20,000 feet of West Penn 4246F shielded data cable, 28,000 ft of Gepco DS401 wide-bandwidth, single-pair audio cable and approximately 17,000 ft of additional cable for an impressive total of more than 25 miles.
Masque Sound also supplied 39 custom panels by Entertainment Metals, a GDS CueSystem with 12 outstations, a Cloud paging system, a Williams Sound assisted-listening system and a Clear-Com intercom system.
"Masque Sound was a great partner on this project," said Owen Hughes, Production Manager of St. Ann's Warehouse. "They were willing collaborators, meticulous installers and responsive professionals every step of the way. For many years to come, St. Ann's Warehouse will have a robust and flexible A/V infrastructure to put at the service of artists, technicians and audience members, thanks to Masque's hard work."
The new St. Ann's warehouse is an absolutely breathtaking facility, and we were thrilled to be part of the project, adds Bennett. When visitors come to the new location, they are going to be in for a real treat. It's a very cool venue in a really hip location that will sound amazing.