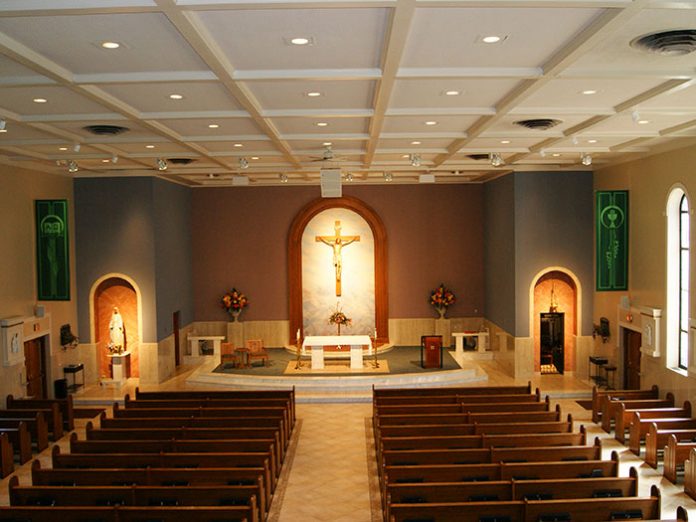 Founded in 1917, St. Ann's Catholic Church has thrived over the years, and as its congregation has grown, the campus has expanded to include a school, rectory, gymnasium, and several other buildings. Their current 500-seat sanctuary underwent a major renovation in the 1990s, and the church recently upgraded their audio system, adding a Mackie DL32R digital mixer with iPad control.
"We came in to replace their speaker system, because they'd been struggling for several years with intelligibility issues," explained Larry Garris, owner of Corner Music Audio & Video in Nashville. While replacing the outdated system with a Renkus-Heinz CFX-series center cluster, the conversation turned to the church's aging mixing console. "They were originally pretty set on staying with an analog console," said Larry. "The priest, who was nearing retirement, is a pretty progressive guy, and while we were in there working on the system, we took an iPad and showed him a bit about the Master Fader app and how it all worked. He got it immediately, and we agreed to bring in a DL32R for them to try out."
"Once they saw how simple it was to operate, they were convinced," added Corner Music's Production Consultant Bob Nickerson. "They have a lot of volunteers running the sound, so simplicity is key."
As David Krause, one of St. Ann's audio leaders, observed, the DL32R has afforded the church a great deal of flexibility. "We offer both traditional and contemporary services," he explained. "We have at least four distinct groups providing music each week at St. Ann's. Each group has different personnel and instrumental lineups, and the different groups are typically positioned in different areas of the church during their respective services. The DL32R allows us to create and save various custom scenes, tailored to each group, and those can be easily accessed as needed. We can create a number of discrete monitor mixes so that individual singers and musicians can hear more or less of any active channels. For weekday Masses which might not include musical accompaniment, our Pastor can access a mixer view which shows only speaking microphones for a non-musician, user-friendly experience."
Although the church rarely uses all 32 of the console's inputs simultaneously, the DL32R enables them to have setups for multiple ensembles connected, thus avoiding the need to plug and re-plug the system for each use.
"The wireless capability was perfect for them, as their choir is in the balcony at the rear of the sanctuary," added Bob. "Their choir director has full control from across the entire room. Their contemporary ensemble sets up at the front of the room, so the ability to switch snapshots is great for them."
David agreed: "Controlling the system via iPad allows us to freely roam around the sanctuary to hear what the congregation hears at various points throughout the church and to make adjustments from any of those vantage points."
"I admit to knowing very little about setting up or running sound," added Music Director Marcina Clark. "But the DL32R allows us to create and save scenes specific to the needs of my ensembles, and those scenes are easy to access and use. I use the system for both an adult choir and a children's choir, in two different locations in the church. My choir mics are hard-wired but we have the flexibility to use wireless mics for solo voices and instruments. We've never sounded better!"