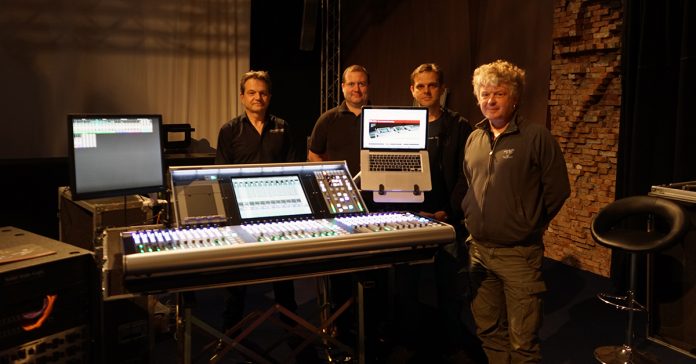 With their ground-breaking audio consoles, Solid State Logic has evolved to become the world's leading manufacturer of analogue and digital audio consoles and provider of creative tools for film, audio, video and broadcast professionals. FACE have revealed that they are very happy to distribute the SSL Broadcast consoles throughout Benelux and the SSL Live consoles in Belgium and Luxembourg from now on.
With more than 3000 SSL-equipped studios and facilities operational today, the excellence of SSL consoles is universally recognised for unrivalled sonic quality, superb ergonomics, outstanding automation and an international support infrastructure second to none. Internationally famous musicians, producers and engineers working at the highest level of every musical genre choose SSL equipment to extend their creativity and ensure the highest possible quality of their finished product.
The key to the company's success lies in its products; powerful and innovative technology is used to create dedicated solutions for the recording and manipulation of sound in highly demanding environments. In conditions where sonic purity cannot be compromised against the inevitable demands of high workloads, and where dauntingly inflexible deadlines are accepted as the norm, SSL equipment is synonymous with reliability and excellence.
Sam De Pauw, CCO of FACE adds: "The secret of SSL's success is its dedication to great sound and its innovative approach to creating outstanding products with absolute power and ultimate flexibility. This entrepreneurship fits perfectly with FACE, so we're very excited to add SSL Broadcast and SSL Live to our portfolio."
FACE will distribute the Broadcast consoles in the Benelux area. For more than 30 years SSL has been at the forefront of innovative broadcast console design and has incorporated decades of research and customer feedback into the development of their consoles. Besides the Broadcast consoles, FACE will distribute the SSL Live consoles in Belgium and Luxembourg.
SSL Live delivers outstanding performances in the most demanding applications in touring, installation, house of worship and theatre. "We're convinced of the synergy between live and broadcast for live sound TV events like the Eurovision Song Contest or The Voice. Shared resources and Dante networking is definitely a winning point" adds Glenn Willems, Audio Specialist at FACE. "Both the Live as well as the Broadcast consoles fit in a network and stand-alone environment. The user interface is great for stressful situations, which occur on a regular basis in Broadcast and Live."