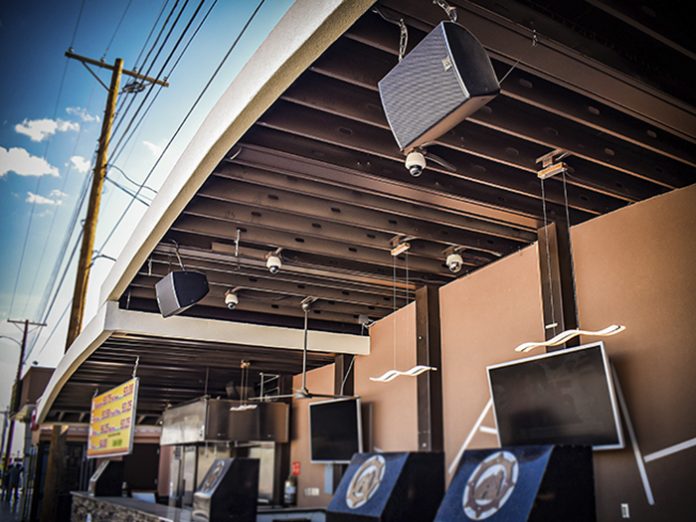 SRB Consulting & Design recently installed a Martin Audio system consisting of WPC line arrays, SXH218 and SX118 subs and CDD12s as part of a comprehensive upgrade at the Speaking Rock Entertainment Centre in El Paso, Texas.
Describing the venue, SRB owner Scott Brown explained: "Speaking Rock is located on a Native American reservation and they have live entertainment seven nights a week with outdoor concerts once a month in their parking lots and a large park nearby. It's the 'go-to' area for entertainment because people know there's always something going on there."
Concerts at Speaking Rock include a wide variety of artists such as Chubby Checker, P.O.D., RATT, Molotov, Buckcherry, Sammy Hagar and more. In terms of the performance venue, Scott explained: "The main room has a kind of large club atmosphere with two storeys and wraparound balconies, a main stage and the floor."
The sound system comprises five Martin Audio WPC a side—flown alongside the stage with outfills of four WPC on stage left—since the room is L-shaped. Eight SXH218 subs are ground-stacked on the floor directly under the edge of the stage. The system is powered with 11 Martin Audio iK42 amps using one box resolution for optimum coverage. "It's the audio quality that we needed because it's a very difficult room with concrete floor, adobe walls and lots of reverberation, which the WPC's cleaned up immediately," continued Scott. The CDD12s mounted in the balcony are used for extra speech reinforcement in lower volume situations.
In addition, WPMs are positioned on stage for band side fills along with four SX118s which are used for side fills or drum fills, depending on the setup. Four CDD12-WRs are mounted above the outdoor bars and the doors leading into the facility.
Asked about his mission for this project, Scott responded: "They wanted to achieve clarity and intelligibility given the challenging acoustics of the room. In fact, once we were testing the system after installation, several of the staff members were walking through and even though they didn't know audio, they were saying 'Wow, what happened? What changed?' It was really cool knowing that everyone from the bartenders to housekeepers and guest services were amazed at us just running playback to tune the system. This system really is a monster difference from what we had before."
Because the performance space is a multipurpose room that can be used for everything from row seating to high table-tops, banquets and formal dinners, the owners wanted to ensure even coverage throughout the room. "And this we definitely achieved," confirmed Scott. "In terms of music reproduction, the system performs way better than any other we've ever had in the room––there's a night and day difference. It gives you the true sound of what the music is supposed to sound like."
Echoing Scott's sentiments, Emmanuel Garcia, production manager and FOH engineer for Speaking Rock, added: "It's an awesome PA. The clarity you can get out of it, especially on vocals is where it makes the most obvious difference. We have all kinds of musical artists on stage and the Martin Audio system performs extraordinarily well. You can pretty much get whatever sound you want out of it. It gives us really even coverage and goes way beyond comparisons with previous systems. I love mixing on it."