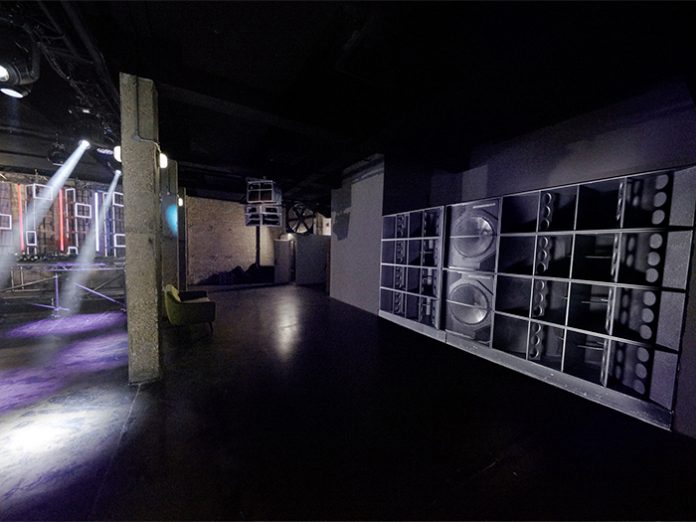 Funktion-One Evo system from Sound Services delivers purity and clarity to London's latest club space, E1.
Blazing onto the capital's live electronic music scene at the beginning of 2018, E1 blends simple industrial minimalism with cutting-edge technology to provide the perfect backdrop for a quintessential clubbing experience.
Occupying a two-room converted warehouse space, E1 is a location-turned-destination. The brainchild of Yuval Hen and Oren Arush, the venue is an evolution of the founders' existing Studio Spaces facility – an events and high-production photo shoot destination catering to global brands and the biggest names in fashion and film.
Marketing Manager, Tim Hinson, explained: "We decided to create a space that was the combination of a rough and ready warehouse space with the luxuries of a full club, whilst still retaining a blank canvas feel – something we felt London was lacking."
Taking inspiration from iconic clubs like Trouw, The Cross, Tresor and The End, Tim wanted to ensure the new venue could tap directly in to their guests' emotional state. "People's experiences – whether it be in a club, at a football match or in a restaurant – are all based upon their senses," noted Tim. "We feel that a good clubbing experience is based predominantly around the sense of sound; for the optimum experience in a club, there has to be a great level of sound quality."
With this in mind and having used Funktion-One on projects over the past decade, the Studio Spaces team knew exactly where to turn. The E1 crew turned to long-time collaborators Sound Services headed by Curt Gilmore and Rich Cufley, the audio specialists designed and installed a bespoke Funktion-One system for the main warehouse space and the smaller 'Black Studio' room.
The two 5-way systems feature loudspeaker innovations from Funktion-One, including Evolution 6 mid-highs and the revolutionary BR132 32-inch bass reflex enclosures.
"This new technology can deliver unparalleled low end with precision, unlocking low frequency information that goes unnoticed on most audio systems," remarked Rich. "Combined with tried and tested F221 and F215 horn-loaded loudspeakers, it makes two five-way systems of epic proportions!"
The systems are powered by Full Fat Audio FF10000 and FF6004 amplification with digital signal processing from XTA Electronics XO4A/DP48. DJ Monitoring in both rooms is provided by the iconic Funktion-One PSM318s.
Alongside the Funktion-One audio, a top-grade lighting rig provides impressive visuals and the acoustic performance of both spaces has been optimised by architectural specialists Shaun Murkett Acoustic Consultancy.
Since its opening E1 has risen to the promise of its burgeoning reputation with turns from Moodymann and Theo Parrish, plus forthcoming events from some of London and Europe's best promoters.