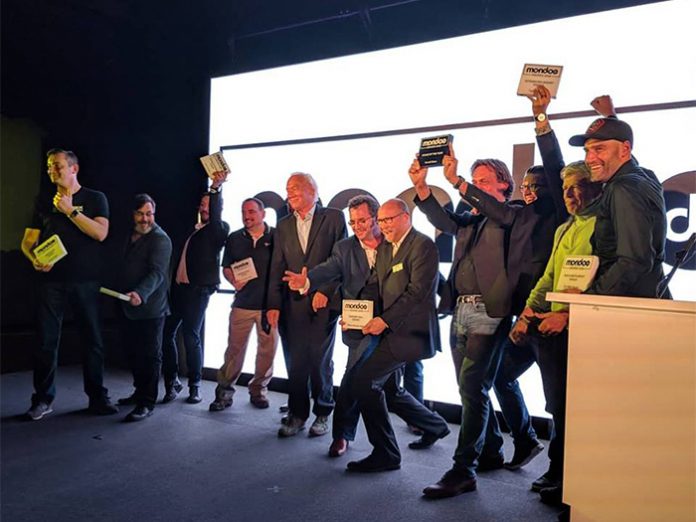 Since 2017, Prolight + Sound welcomes the annual mondo*dr Awards.
Organised and awarded by trade journal mondo*dr, a independent panel of industry experts and readers submit excellent fixed installations, which fall under the entertainment umbrella. On the 11th of April 2018 the second mondo*dr award handed out prices in eight categories.
Michael Biwer, Group Show Director of the field Entertainment, Media & Creative Industries of the Messe Frankfurt Exhibition GmbH, had the pleasure to award the "Venue of the Year". This award, which prized the best installation from all winners of the other seven categories, has been sponsored by Prolight + Sound and formed the end of an atmospheric show. Director Biwer gave the price to Gerriets GmbH and ESI Design for their installation at Terrell Place, USA.
From the beginning sponsors and nominees have been in a party mood. Cheers and chants filled the Panorama Room before Rachael Rogerson-Thorley and Jamie Dixon opened the official part of the show. This emotional atmosphere endured during the whole length of the entertaining presentation.
Fixed installations have been awarded in the following seven categories: Nightclubs, Bars and Restaurants, Theatres, Concert Halls, Houses of Worship, Integrated Resorts and Sporting Venues. Every category was sponsored and awarded by an industry giant.
"An independent and international jury" prizes the winners, explained Rachael Rogerson-Thorley in an Interview beforehand and added: "Every member is a specialist in his field. The jury represents every technical aspect and all different venues."
For her the award is so important, because "there is no other award in the industry, that solely focuses on the prizing of great installations in the entertainment sector".
The editor of the magazine emphasises on Wednesday night again, how happy she is, to hold the awards at the Prolight + Sound. "We would like to thank the Messe Frankfurt, that we can conduct our awards here," said Rachael Rogerson-Thorley before the winner in the main category "Venue of the Year" was announced.
This was the second edition of the mondo*dr awards. Last year the journal already prized fixed installations during the show.
The winners of the mondo*dr awards 2018 are:
Nightclubs: Corner Club von LEDWorks Technology Co., Ltd., MADRIX, Pangolin Laser Systems, Stage Accompany
Bars und Restaurants: St. Giles House von Funktion-One
Theatres: La Perle – Al Habtoor City von Dragone
Concert Halls: Pierre Boulez Saal von Amptown System Company, mit Florian Schaller, GDS, ETC
Houses of Worship: Faith Promise in Knoxville von GLP
Integrated Resorts: Terrell Place von Gerriets GmbH, ESI Design
Sporting Venues: Little Caesars Arena von Elation Professional, InterAmerica Stage
Venue of the Year: Terrell Place von Gerriets GmbH, ESI Design
Original article: http://prolight-sound-blog.de/mondodr-award-2018/