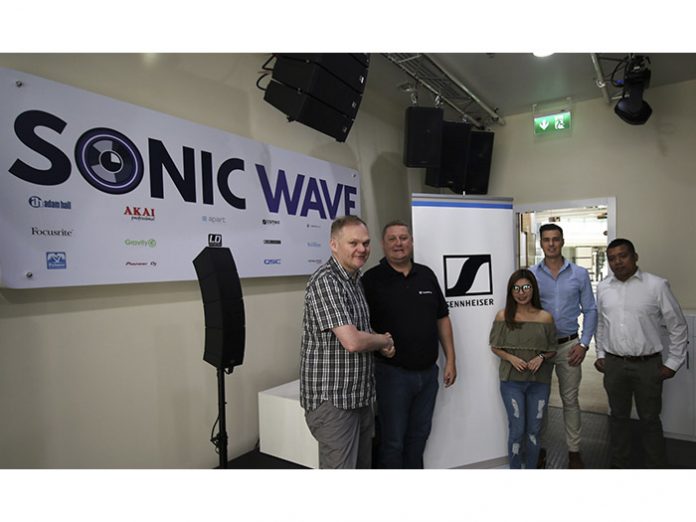 Coinciding with the opening of its fully functional showroom with studio facilities, Sonic Wave, the one-stop shop for audio-visual professionals, today announced its partnership with Sennheiser. The agreement enables Sonic Wave to cater to the growing demand for wired and wireless microphones, as well as studio headphones and monitors from sound aficionados, DJs, musicians, and integrators in the UAE.
"Clients in the UAE are demanding reliable high-quality products with world-class support. The biggest demand for these solutions comes from the hospitality industry, as hotels and restaurants often feature live bands and DJs at their venues," explained Andrew Williams, Managing Director at Sonic Wave. "Sennheiser delivers on these requirements with a catalogue of products and models that supports a full range of applications. Thanks to their presence and investment in the Middle East, they are already the preferred brand for many within our target customer base."
Sonic Wave intends to couple quality products from Sennheiser, with professional support and expertise. The company has set up a fully functioning showroom in Dubai with studio facilities to demo equipment in a real-world environment. "We understand the value of knowledge and constant learning, which is why we organise regular trainings for our technical and sales staff. Our employees have participated in various events held by Sennheiser and are capable of helping customers get the most from their investments," said Andrew. This expertise from Sonic Wave is backed by that of Sennheiser's Middle East team, who by their local presence can provide support through all stages of projects, from planning and execution to after-sales service.
The main market segments the companies intend to focus on are the live music industry and audio recording fields with Sonic Wave promoting wired mics from Sennheiser's Evolution range as well as professional headphones like the legendary HD-25s. The company will also stock Neumann studio monitors and select models from Neumann's range of recording microphones.
"Sonic Wave has a good understanding of the UAE's music industry and enjoys great brand recognition with locally-based DJs and home production specialists. Sennheiser is always keen to engage with these professionals and Sonic Wave's connections and new showroom will make us more accessible than ever before to this segment," said Ryan Burr, Technical Sales Manager for Sennheiser Middle East.
Sonic Wave's inaugurates its new showroom on the 10th of December and is inviting professional installers, musicians and audio enthusiasts to its demos of Sennheiser equipment which will be held from the 13th of December onwards.
About Sennheiser
Sennheiser is shaping the future of audio – a vision built on more than 70 years of innovation culture, which is deeply rooted within the family-owned company. Founded in 1945, Sennheiser is one of the world's leading manufacturers of headphones, microphones and wireless transmission systems. With 20 sales subsidiaries and long-established trading partners, the company is active in more than 50 countries and operates its own production facilities in Germany, Ireland and the USA. Sennheiser has around 2,800 employees around the world that share a passion for audio excellence. Since 2013, Sennheiser has been managed by Daniel Sennheiser and Dr. Andreas Sennheiser, the third generation of the family to run the company. In 2016, the Sennheiser Group had sales totalling €658.4 million.
For more information please visit www.sennheiser.com.