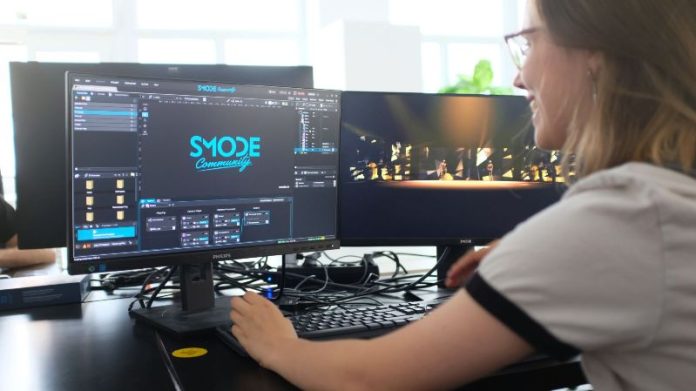 Smode Tech, the company behind the powerful real-time compositing and media server platform SMODE, has announced the release of a free SMODE version, called Smode Community.
This exciting development will open up a world of visual art possibilities for everyone, including students and enthusiasts alike.
In line with Smode Tech's unwavering commitment to the community, the company is also dedicated to combating climate change and minimising its environmental impact.
  Smode Community is a free software license for non-commercial use, designed to give everyone access to SMODE's tools and allowing enthusiasts to explore and express their creativity in real time.
"One of our goals in Smode Tech is creative accomplishment and excellence," said Francis Maes, CEO of Smode Tech. "We strongly believe that art matters and with Smode Community we are committed to help the next generation of talented artists and creators while making sure that everyone has the tools they need to express their creativity."
  Smode Community is the most advanced free real-time compositing engine on the market and it is fully usable without any advertisements, no user data tracking, and no obligations of any kind.
It also comes without any watermarks and supports up to Full HD resolution (1920 by 1080). The free software license boasts a wide range of visual effects and tools as well as an intuitive and user-friendly layer-based interface.
  Smode Tech's free software has Full HD input and output, Full HD content and video export, comprehensive real-time 2D/3D compositing features and extensive real-time 2D/3D video mapping and stage simulation features.
Smode Community supports ISD and ShaderToy shaders, Python scripting, MIDI, OSC and Spout among others, it also has a complete set of linear and non-linear animation features.
  The free software caters to a wide range of users, making it accessible and valuable for creatives.
Beginners seeking to explore art creation, students can leverage its capabilities to learn and get their start in the live event industry, while VJ's can utilise it for small events, asset creating and live mixing.
On the professional side, it will also lead to a major boost for the emergence of new video operators. Motion designers benefit from its ability to avoid rendering time, create assets, and schools can take advantage of Smode Community's features to enrich their educational initiatives.
  Stéphane Chung, head of education at INA (France's National Audiovisual Institute) expressed his enthusiasm for SMODE's potential in assisting students, stating: "After five years of integrating SMODE into our courses and degrees, the introduction of a free non-commercial version of SMODE is truly exciting news.
"This development significantly enriches our educational offerings, making it even more convenient for our students to practice both at home and in school while exploring the software's versatility.
"I believe that SMODE will become an essential addition to our machines dedicated to image post-production, allowing its discovery and utilisation by an even wider audience."
  Smode Tech's commitment to give back to the community extends beyond this new free software: it also includes dedication to making a positive impact on the artistic community as well as the environment.
As part of this commitment, Smode Tech has decided to donate 1% of its total income to Team for the Planet (TFTP), an initiative dedicated to reducing CO2 emissions by investing in innovative, eco-friendly and open-source solutions that are making a tangible impact on the fight against climate change.
  "Giving back is always at the heart of what we do. This is why we contribute to an initiative that is actively fighting climate change and aim to empower up-and-coming creatives worldwide with Smode Community," said Francis Maes.