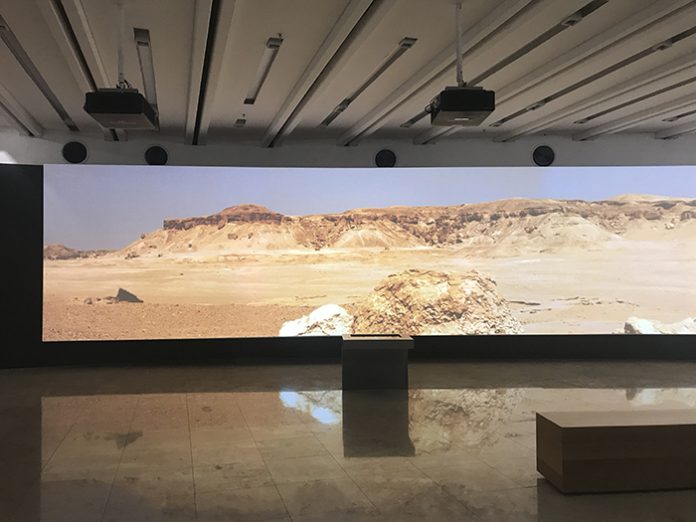 The Habitat Museum in Kuwait City is concerned with its natural flora and fauna, containing a large number of interactive exhibitions and scenic recreations.
The museum's centrepiece boasts a 26-metre audiovisual projection that displays the beauty of the different habitats of Kuwait by means of spectacular panoramic views. Although this has remained a visitor favourite since its introduction, the museum's management decided that a projector upgrade was required to help the exhibit realise its full potential.
In order to do so, the museum called on a trusted integrator, SMARTENTITY (SEC), for their advice, knowledge and expertise.
Youssef Ismail, deputy managing director of SEC, said: "SEC has had a long relationship with Amiri Diwan at the governmental projects department. He trusts us and our expertise. When he told us that they wanted to start changing a part of their setup at the museum, we had to assess their requirements and suggest what we thought was the best fit in terms of the equipment used."
Although the client wasn't immediately aware of Digital Projection's products, Youssef didn't hesitate to call on Rayan Soumsom, regional manager for Digital Projection in the Middle East, for his advice. After hearing about the requirements of the installation, Soumsom suggested that Digital Projection's new E-Vision 13000 projectors with RED LASER colour boosting technology would be a perfect fit.
The museum's existing backbone dictated that 7 E-Vision 13000 projectors were required to cover the 26-metre screen. The company also provided 4 more E-Vision units that would be installed facing directly downwards – to cover a 4-metre by 3-metre table surface.
The content in the newly upgraded part of the museum charts thousands of years of the region's natural history, and was created by UK-based audiovisual specialist, Electrosonic.
"With the new Digital Projection units and their wider coverage, the edge blending has become more of a challenge because blending areas are much bigger," Youssef said. "We still have the same content, the same Dataton Watchout media servers, and the same Cisco networking, so some recalibration was needed. This was also the first time we have installed Digital Projection projectors with ColorBoost + Red Laser It was a challenge, but we were able to overcome it and the area is certainly better off for the upgrade."
Since this was an active site, the museum was adamant that the integration process was to be seamless, without affecting the flow of visitors. This meant that a lot of night work was necessary.
"We had a lot of support from Digital Projection remotely and we were sure that we could always give Rayan Soumsom a call if we needed to. He also came to the museum for a full day in order to assist us in the calibration process and give us tips on how to make our life easier. The technical support team in UK was in constant contact with Rayan to make sure things were running smoothly."
With this project a resounding success, SEC and the museum are now identifying other areas of the building that are in need of modernisation.
"Having seen Digital Projection's full support during the installation, we now want to continue working with them," said Youssef. "We want to promote their great products and fantastic service. The next project will surely require us to use the colour calibration service that Digital Projection offers, which colour-matches projectors before shipping them."