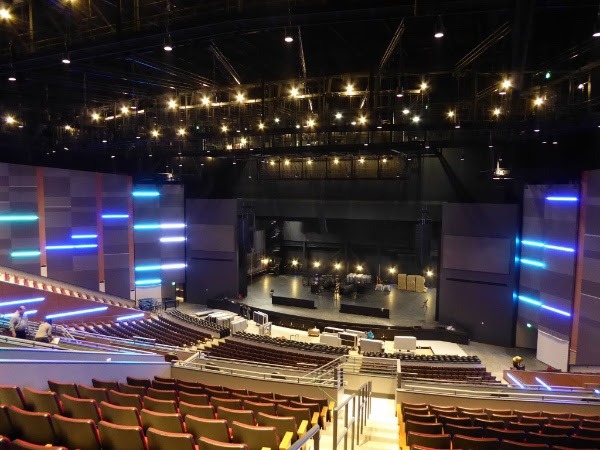 The new Smart Financial Centre at Sugar Land is everything you'd expect of a performing arts center in Texas: big, bright and bold. The $84 million venue, which officially opened in the Houston metro area this month with a strong lineup of events including Jerry Seinfeld, Don Henley, Dave Matthews, Reba McEntire and the touring production of Dirty Dancing, comprises 20,000 square feet that combines the programs of concert hall, civic center and theatrical center in a single shape-adjusting venue.
But the new Smart Financial Centre Performing Arts Center at Sugar Land also has Texas-sized sound thanks to an L-Acoustics K2 line array system installed by LD Systems and designed by consultant Scott Bray of Wrightson, Johnson, Haddon & Williams, Inc. (WJHW). "This is a premier performance venue for the entire region, so they wanted the absolute best sound possible, and they got it!" says LD Sales Engineer Kevin Broussard.
The new venue's sound system uses a theatrical LCR design: 13 K2 enclosures make up the left and right array hangs, with eight SB28 subs flown behind each of those arrays, while the center cluster is made up of 12 Kara enclosures. In addition, there are five delay arrays of six Kara enclosures each suspended over the balcony. A flexible Kara front fill system uses up to eight Kara enclosures along the stage lip for front fill coverage. All of these are powered by 22 LA8 and four LA4X amplified controllers housed in LA-RAK racks.
Flanking masonry walls cradle a glazed façade designed to reveal the iconic bowl-shaped arena within, but one able to adapt to performance and audience requirements. Its largest configuration of 6,500 seats can be adjusted, using deployable walls alongside balconies, which extend down to the orchestra floor, to 4,600 seats for smaller shows and civic events. At 2,900 seats, the hall presents an elegant theatrical experience for the patrons of Broadway shows and extravagant holiday spectacles.
The K2/Kara system was the perfect choice for the facility's variable seating design, notes WJHW design consultant Scott Bray. Using L-Acoustics' Soundvision predictive 3D system design software and LA Network Manager, the WJHW team was able to calibrate the system based on the position of the movable walls and curtains—three primary room configurations in all—as well as automatically move delay speakers in and out of the system on chain hoists, all at the push of a button.
Furthermore, L-Acoustics' Soundvision predictive 3D system design software gave WJHW a highly accurate model of what each configuration would need in terms of EQ and delays before the first speaker was put in place; the system was then fine-tuned on site. "We felt confident that what we saw in Soundvision is what we'd hear in the venue, and that's exactly what happened," says Bray. "We needed highly accurate pattern control, to keep the sound on the seating no matter what the configuration was. We were able to get ahold of Soundvision 3.0, the latest software version, and we were able to map out perfect coverage patterns."
He also notes that the K2's rider friendliness had a huge impact on the decision. "Artists know the L-Acoustics K2," he says. "You'd have a hard time finding an engineer who wasn't familiar with the system."
LD Systems' Broussard points out that while the K2 is designed as a touring rig, it works exceptionally well as an installed sound system, one with the advantage of being able to be hoisted by a dedicated winch for maintenance. "The arrays can be flown and then lowered or raised as necessary," he says. "That's another level of flexibility for this system."
But both Broussard and Bray—and everyone else who has heard the system—have first and foremost praised its sound quality. "It just sounds incredible," Broussard says. "Very punchy but never losing articulation." Bray agrees, "It's just fantastic sounding," he says, adding the ultimate sound-system compliment. "It's like listening to a really good stereo system."