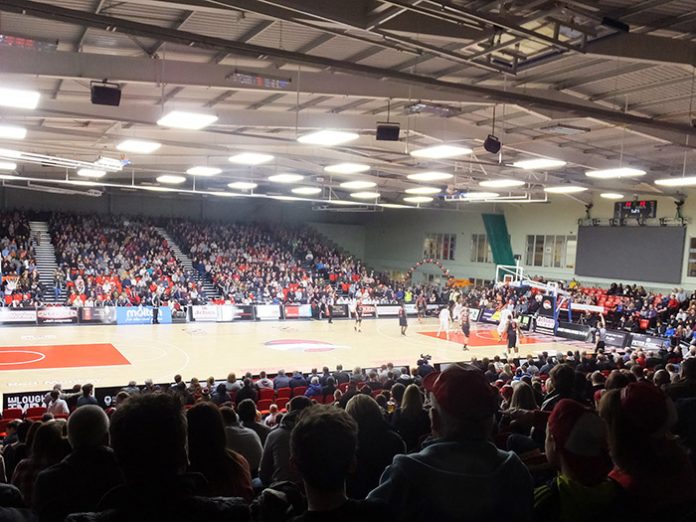 The new £4.5m Leicester Community Sports Arena — a joint venture project between Britain's oldest professional basketball club (Leicester Riders), Leicester City Council and Leicester College — opened at the end of January, with the 2,400 capacity audience treated to top quality sound exclusively from Martin Audio's new CDD installation series. Twelve of the CDD15 loudspeakers were specified and installed by local sound and lighting integrators, MBSL.
Mark Broadhead's technical company was brought in just two weeks before the venue's inauguration when it was discovered that while the six 100V line speakers, specified by another party, might have been sufficient for voice evacuation, it was certainly not up to delivering American style razzmatazz, complete with cheerleaders, in the arena on match days. With nearly 30 years' experience under their belts, and heritage of working with Martin Audio workhorses such as the F15, they were made aware of the new CDD (Coaxial Differential Dispersion) technology which has stimulated huge market demand.
Mark instinctively knew that their products were not only reliable but were well supported and offered excellent value for money. "We wanted a speaker that would provide even sound dispersion and work reliably — since it would be located 8m up in the air and we didn't want to be making service calls," said Mark. "As soon as I heard the high output generated from the CDD15's 15in coaxial driver, I was bowled over — it produces an impressive punch and delivers over a wide dynamic range. We had also given the client three different options to show them what a 15in driver would sound like, and they were impressed."
With the bulk of the crowd facing each other across the court, Mark quickly realised he could provide all the necessary coverage from just four CDD15s on each flank, despite the raucous and reverberant ambient noise produced by the crowd. These are fixed to the ceiling using Martin Audio's standard bracketry. In one corner at the two end stands, and angled back towards the seating, are two further CDD15s, while from the other corners the final two CDD15s turn to fire into the court. The system is optimised using the dedicated DX0.5 management system — and despite the fairly cavernous space, and different sound sources pumped through it (ranging from commentator mics to DJ computer derived music) no EQ was necessary — and only the limiter needed to be set.
In addition to basketball the venue hosts a local badminton team and in future hopes to stage banquets and weddings and so reconfigurability of the soundscape was essential. Thus the seating can be retracted electronically when the venue is used for other purposes, and since this is a zoned system, the two court-facing speakers can be disabled when not in use. Summing up, Mark said: "Some of my old Martin Audio systems are still working after 10-15 years and unlike other brands I have never heard anything bad when fitting this brand. The clients know they have good value, and are over the moon."