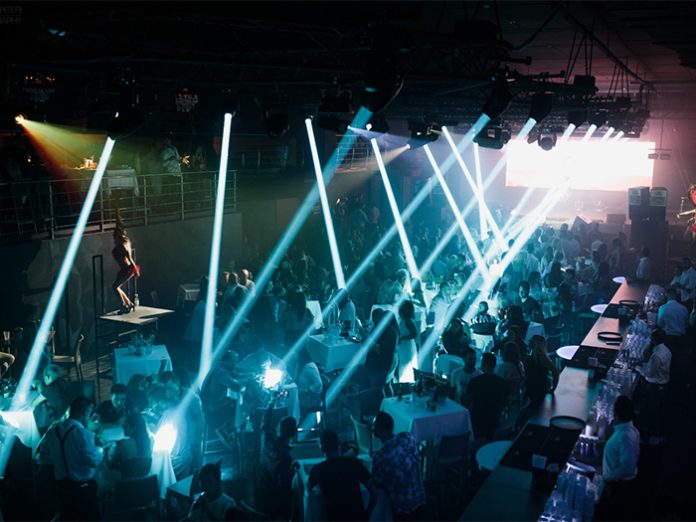 Sky Club, one the largest indoor nightclubs on the Mediterranean island of Malta, reopened on 1 October under new management. This included the unveiling of a completely refurbished lighting and AV system, comprised exclusively of ADJ lighting and LED video products. The new rig features 48 automated lighting fixtures, including Focus Spot 6Z and Vizi Hybrid 16RX moving heads, making it the largest and most impressive lightshow on the island.
When Maltese hospitality industry professional Darren Casha – owner of the Bora Bora Playa and MedAsia Playa venues – took over Sky Club, he wanted to put his own stamp on the well-established nightclub and revitalize it ahead of the up-coming winter season. As part of this plan, he brought in longtime friend and collaborator Stefan Farrugia, and his company AVL Services, to replace the venue's aging lighting rig with a brand-new system that would deliver a new level of wow factor to the space.
Stefan has extensive experience of audiovisual integration in nightclubs and other leisure venues, having started his business back in 1996. He is well known on the island of Malta and supplies many of the leading nightlife venues. Historically trading as Futuretech, Stefan merged this brand into his current AVL Services company two years ago, which also offers event production services and corporate AV systems in addition to continuing to provide AVL design, supply and installation services to late night venues of all sizes. Stefan has a long history with ADJ lighting, having sold and installed the company's product line in Malta for many years.
"I have been a loyal customer since ADJ first came to Europe," confirmed Stefan. "I have always been very happy with the after sales support I have received from the company and, of course, I am very happy with the quality, reliability and good value offered by the products. Over the last few years ADJ has taken a positive step up into the high-end professional market, which fits with the projects that I am involved with, so I am sure we will continue to do business together for many more years to come."
The window for the refurbishment of Sky Club's lighting, audio and video system was extremely tight, as Darren was only able to take possession of the venue three weeks prior to the reopening night. This meant that Stefan and his team had to work very fast to design the new system, strip out the old equipment, and then source, install, and program the new setup in time for opening night. To achieve this, Stefan worked closely with local freelance Lighting Designer, Andrew Zammit, to formulate a vision for the new rig and then with ADJ Europe's Export Manager, Jos Reulen, to ensure the 123 ADJ fixtures needed to make that vision a reality were delivered in time.
Sky Club is a large venue which features a rectangular main space with a stage at the short end, a long bar running down one side, and a raised VIP mezzanine running along the other. Darren's brief for the new lighting system was something that would not only cement the club as the island's premier indoor nightlife venue, but that would also be very versatile as he has plans to utilize the space for other purposes in the future, for example to host shows and conferences.
One of the key fixtures chosen for the new lighting system was ADJ's Focus Spot 6Z moving head. Eight of these units were positioned in a line across the rear of the stage, with another eight fixtures rigged in a line running down the middle of the club. Featuring a potent 300W cool white LED engine paired with a precision-engineered high-quality optical system, the Focus Spot 6Z delivers extremely punchy output, allowing for sharp aerial effects and crisp GOBO projections. It offers a diverse collection of beam-shaping tools designed to give lighting designers a huge amount of creative potential. These include motorized iris, focus, and zoom (for a beam angle between 9 and 28-degrees), two independent color wheels, two 6-facet indexed rotating prisms (one circular and one linear), two frost filters (heavy and light) and a pair of independent GOBO wheels, each with seven slots for rotating replaceable GOBO patterns.
"The Focus Spot 6Z has an amazing light output; the optics are perfect and the beam angle is ideal for the height of the ceiling in Sky Club," states Stefan. "The fixtures at the back of the stage are particularly effective, creating texture behind the DJ which can be seen right from the other end of the venue."
To complement the wider aerial effects and GOBO projections created by the Focus Spot 6Zs, Stefan and Andrew's lighting design for Sky Club also incorporates 16 of ADJ's Vizi Hybrid 16RX moving heads. These are positioned in two lines running the length of the club, flanking the central line of Focus Spot 6Zs. Powered by a high output Philips® Platinum 16R 330W MSD lamp, this multifunctional beam / spot / wash fixture features a motorized zoom range of between 3 and 32-degrees, meaning that it can be used to generate super sharp beam effects as well as wider GOBO projections. Other features include motorized focus, two rotating prisms (6-facet linear and 8-facet circular), frost filter, two GOBO wheels (one static and the other replaceable) and a 14-position color wheel.
"From the very beginning," explained Stefan, "we knew that we wanted to fill the club with beam fixtures and the Vizi Hybrid 16RX was an obvious choice. It is my favorite light; I like everything about it. The beam is very sharp, the output is intense, and it is a hybrid fixture, which means it can also sometimes be used as either a spot or wash. The colors work very well when it is used as a spot and having the ability to use some of the fixtures as washes to enhance the stage lighting fits with the client's requirement for a versatile setup. However, primarily we are using them as beams. The effects we have been able to create with 16 of these fixtures lined on either side of the club are truly amazing!"
Additional beam effects are created in the club by 12 of ADJ's Allegro Z6 motorized linear fixtures, which are arranged in a continuous 6m long line at the front of the stage. Each of these compact units feature six individually controllable 30W quad color 4-in-1 RGBW LEDs and a motorized zoom function, allowing the angle of the six independent light beams to vary between 4-degrees, for tight beam effects, and 32-degress, to create wide soft-edged washes. In addition, the bar on which the LED apertures are mounted is also fitted with motorized tilt movement, providing lighting designers incredible artistic potential for creating both static looks and moving effects.
"We chose the Allegro Z6 because it is a one-of-a-kind effect," explains Stefan. "With the beam set to narrow and the tilt function pointing down, we can create a curtain of light in front of the DJ, which is very effective. Then, with the beam angle opened up and the motors tilted back, we can wash the whole of the stage's back wall. And with the motors running offset tilting movements we can fill the whole club with moving beams. So, it's a distinctive effect that is also very versatile. Everyone who has seen it has been impressed; it's my favorite effect in the club."
Stefan and Andrew's lighting design for the club also relies heavily on ADJ's 32 HEX Panel IP multi-functional wash / blinder / color strobe fixture. It features 32 12W HEX LEDs (6-IN-1 – RGBWA+UV) arranged into eight individually controlled zones and offers a beam angle of 24-degrees. A total of 16 of these fixtures are utilized within the venue, with ten positioned at various locations above the dancefloor pointing directly down and the remaining six rigged above the stage pointing out towards the crowd.
"The 32 HEX Panel IP is a versatile fixture," confirms Stefan. "It can be a color wash, or a strobe, or a pixel effect and we are using it for all these functions. It is also very bright, which was an important consideration for this project, as it's a very big club. But, with 16 of the HEX Panels in the roof, we can light the room up like it's daylight if we turn them full on!"
The lighting system is completed by five ADJ Ultra HEX Bar 12 linear LED wash fixtures, which are used to illuminate performers on the stage, and four Focus Spot 4Z moving heads which are utilized within the mezzanine VIP area. In addition, three Fog Fury 3000 smoke machines and three Entour Venue pro-grade faze machines fill the venue with a beam-enhancing mist. In addition, the wall at the back of the stage (behind the DJ position) is filled with an LED video screen comprised of 48 ADJ AV4IP panels. This is used to display ambient video content – synchronized with the colors and patterns of the lighting – as well as for IMAG from live camera feeds showing the DJ or other performers on stage.
Summing up his experience of working on Sky Club, Stefan states, "I am very proud of this project. Having the opportunity to create a completely new lighting system for the biggest club in Malta was a dream come true." Darren reciprocates the sentiment by saying, "I have always used Futuretech / AVL for my AV jobs and they have always supplied top notch product and after sales service, but this is an impressive installation on another level!"