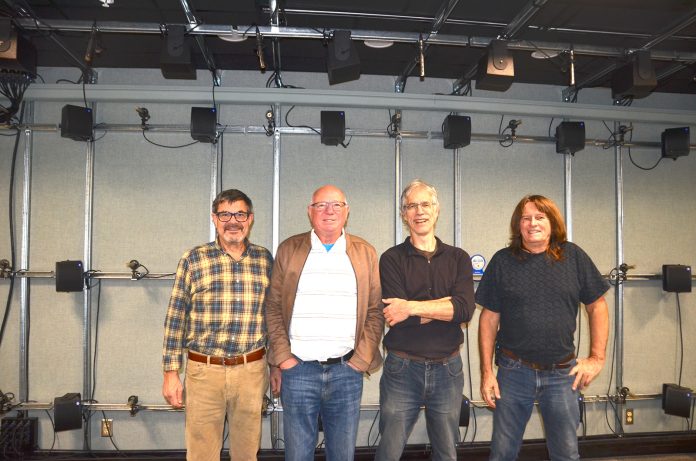 Vancouver BC's Simon Fraser University (SFU) has chosen two TiMax spatial processors as the central immersive audio processing and control platform for its new Core Facility research lab, focussed on Immersive Communications.
The principal allure of TiMax is its unparalleled spatial functionality and free-ranging flexibility that will play a vital role in handling the broad scope of research projects destined for the lab.
The term "immersive communications" in this context refers to 3D multimedia including surround video and spatial acoustic systems.
TiMax, in conjunction with Advanced Audio, Direct Out, Renkus-Heinz and Innosonix technologies, forms the core of the spatial acoustic processing aspect of the facility.
On the walls and ceiling are flat acoustic absorbers and an evenly distributed matrix of 128 Renkus-Heinz CFX41 speakers and 128 Advanced Audio microphones.
These are all hooked up via a Dante network to a specialised beamforming system comprised of two DirectOut PRODIGY-MC modular converter with mic preamps, four Innosonix MA32/LP2 32-channel amplifiers and two TiMax SoundHub-S64 delay-matrix spatial processors, which allow programmable beamforming and spatialisation operations via the versatility of the TiMax software workflow.
Project originator and ambassador, Rodney Vaughan, a senior professor at SFU, was supported by TiMax senior developer Tim Bartoo, an SFU alumnus who will also be involved with future research projects, and prominent BC-based acoustics and AV designer, Fred Gilpin, with both leading the technology selection and installation program for the lab.
Ontario-based pro-audio distributor Contact Distribution, who supplied the TiMax spatialisation systems, Innosonix amplifiers, Direct Out units and Renkus-Heinz loudspeakers was also centrally involved with the project's realisation.
Local regional manager Harry Boyce was intrinsic to procurement coordination and delivery and also put in some time on-site.
SFU's Rodney Vaughan commented: "I want to thank the many people that have helped with this project, and those who have recently become involved to help make it happen.  This lab now allows us to address a ton of research ideas that are considered gold currency in universities."