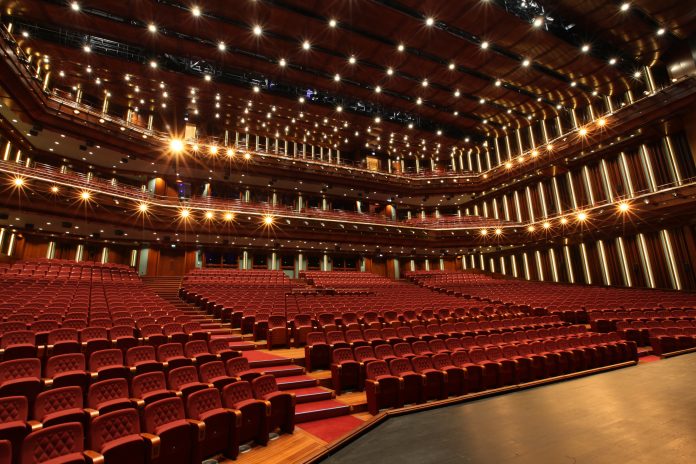 Shure has supplied an array of AV systems, microphones and automatic mixing hardware for Turkey's Presidential Complex in Beştepe, in the Turkish capital Ankara. Supplied through Atempo, Shure's distributor in Turkey, the equipment included DCS simultaneous translation and conferencing systems, Microflex Wireless conferencing microphones and Axient and ULX-D wireless microphone systems.
The Presidential Complex, or Cumhurbaşkanlığı Külliyesi in Turkish incorporates the official residence of the republic's President Erdoğan, assorted offices of state, a mosque, a public library and a cultural centre. Atempo, also integrators on the construction project, submitted the Shure equipment as part of its tender to install the AV systems in two sizeable multi-purpose congress halls at the complex, containing 2,050 and 300 seats respectively, used for concerts, conferences, opera and theatre. The tender also covered nine associated basement meeting rooms and foyer and public exhibition areas.
The 2,050-seat multi-purpose hall was fitted with a DCS 6000 digital conferencing, assistive hearing and translation system, providing sound reinforcement for speeches in the hall and also allowing up to 12 different languages to be simultaneously translated and relayed to any of the individual seats. Axient wireless microphone systems with Spectrum Manager, full ShowLink remote control capabilities and Wireless Workbench software were also supplied, along with handheld and lavalier mic units, headphones and supplementary ULX-D digital wireless microphone hardware. Classic Shure wired products including the SM58 and SM57, Beta-series mics and high-quality KSM32s provide the hall with further miking flexibility for sales conferences and political debates to rock concerts and opera productions. A further eight-channel Axient wireless microphone system, together with a networked Microflex Wireless system offering gooseneck and handheld microphone options and associated Dante-enabled SCM820E automatic mixers were installed in the basement meeting rooms, providing additional flexible sound reinforcement.
According to Tayfun Konuralp and Murat Koysuren, respectively Project Sales Manager and Project Coordinator at Atempo, the company chose Shure thanks to a combination of factors, including the international reputation of the brand and its popularity among live sound and mix engineers in Turkey. "For this project, we really had to ensure we could deliver clear audio with no disruptions," explains Tayfun Konuralp. "There were three main criteria for the client, sound quality, the ease of implementation of the network underpinning the system and the physical look of the product. Shure outperformed the competition in all three areas. The fact that the Axient and Microflex microphone systems were so easy to network was fairly decisive. We didn't even carry out any audio quality tests on the Shure equipment as it was already clearly the first choice according to our client."
Shure also provided support directly during the installation as Murat Koysuren explains, "With the translation system, it was the first time Atempo had handled a system for a hall of this size involving 2,050 seats. The Shure technical team supported our installers with detailed cabling structures as well as on-site support during the installation." With the installation complete and the halls at the Presidential Complex now in use, Atempo have had nothing but positive feedback on the Shure systems from state officials. "They were up and running with the Shure systems in no time," explains Murat Koysuren. "One of the main requirements for this project was that the networked components should be easy to manage and control remotely and they've been telling us how Wireless Workbench has made that so simple for them."
"Our change in distribution has provided us with numerous opportunities in the country," commented Chant Utukian, Shure Regional Sales Manager. He concludes, "Despite the current market challenges, we are confident that together with Atempo, we will achieve more milestones like this project."