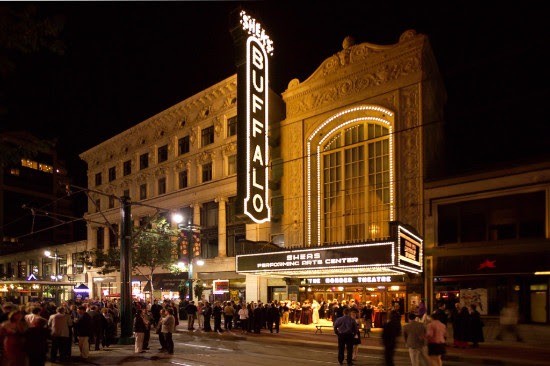 Stroll into Shea's Buffalo Theatre and prepare to be stunned. Over the past 18 years, more than $20 million has been poured into restoring one of the few remaining Tiffany-designed theatres in the country, and the 1926-vintage former silent movie venue and vaudeville house looks fabulous. Shea's Buffalo Theatre – one of three theatres that make up the Shea's Performing Arts Center – also boasts high-quality sound systems in the main theatre and in the Grand Lobby, which integrate over a Dante™ network.
The Grand Lobby sound system is the most recent addition. There, the Dante network is accessed using Attero Tech unD6IO Dante-enabled audio wall plates. The unD6IO provides two analog XLR inputs with switchable mic/line gain and phantom power and two unbalanced inputs that can be switched in software between RCA and 3.5 mm stereo jacks. The two analog output channels feed a 3.5 mm jack and two balanced outputs on a side-mounted, depluggable connector with software-controlled volume.
"We revamped the main sound system and put in a lobby system where none existed before," offers project manager Chris Dietrich of AV engineering firm Specialised Audio-Visual Inc. (SAVI), which designed and installed the system. "We gave them one of the nicest lobby sound systems I've put in anywhere, and a big part of that was Attero Tech Dante wall plates. In an old building, it's not easy to get conduit retrofitted. It's much easier to take a piece of plenum-rated CAT5 and wiggle to locations that you couldn't easily get to running a lot of analog pairs. With Dante, I can take one CAT5 cable, plug it in with a PoE switch at one end, and provide analog on and off ramps with Attero Tech Dante interfaces."
The stately, marble-clad Grand Lobby hosts weddings, receptions, concerts, and other events, some of which also utilise the main theatre. Because Shea's is the anchor of the downtown arts and entertainment district, it's the venue for the annual coordinated season opening, complete with press conferences and other functions, including a band on the balcony of the Grand Lobby.
"With the new system, they can plug mics into a submixer and run the output of the mixer into an Attero Tech unD6IO wall plate," Dietrich reports. "The unD6I0 brings the audio into the Dante network and to a BSS 806 Dante-enabled DSP.