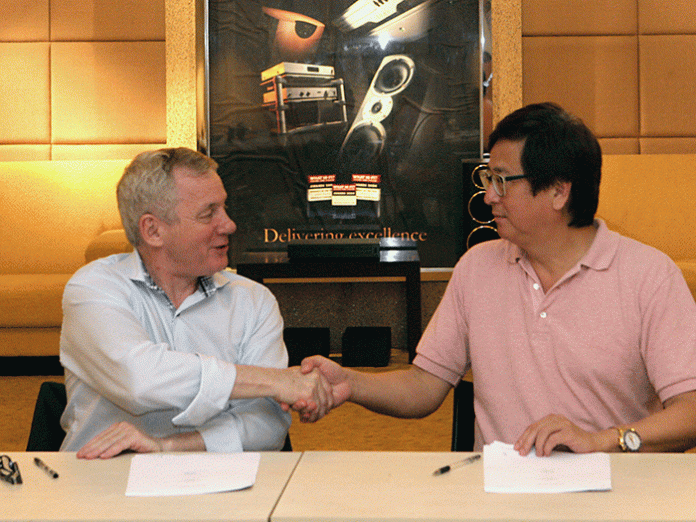 SGM is proud to announce a new partnership with Sanecore, part of the IAG Group, as the new exclusive SGM distributor for mainland China, Taiwan, Hong Kong and Macao, effective as of July 15th 2016.
As part of the IAG Group, Sanecore is a leading manufacturer of loudspeakers and audio electronics based in Shenzhen, China. Henceforth, Sanecore will be the exclusive distributor of SGM products in China, Hong Kong, Taiwan and Macao.
IAG Group has its headquarters and manufacturing facilities in Asia and with offices (including R&D) in the UK, IAG is has a truly global reach. Peter Johansen, CEO of SGM, and Michael Chang, President of IAG, have an extensive track record of working together that dates all the way back to 1991, where Sanecore became the distributor for Peter Johansen's previous lighting company.
Peter stated the following: "Based on my past experience with Michael Chang, it was an easy decision to entrust the distribution in the area to him and the Sanecore team. In the past, our cooperation has led to great things and I expect no less this time. Sanecore's extensive distribution network represents a perfect platform to raise awareness of SGM's professional lighting product portfolio. I am excited to, yet again, combine a long-lasting friendship with a mutually profitable business agreement."
Since 2001 Sanecore has focused mainly on audio distribution – both hi-fi and audio for the professional segment. When the opportunity arose to partner up with SGM, the desire to repeat past successes drove Sanecore's decision to reintroduce professional lighting into its professional product portfolio.
Michael provided concluding comments: "I am excited to be on board with Peter and his innovative products once again. We have been following SGM closely in recent years and see a lot of potential in the products – particularly with the recent addition of the POI range of permanent outdoor installation products. Being able to offer SGM products to our professional customers could potentially increase our professional customer base significantly. Together, we will ensure a successful reintroduction of SGM's great LED lighting products in our region."
Michael and his team look forward to introducing Asian customers to the SGM product portfolio. SGM and Sanecore will exhibit together at the Palm Expo Beijing in September.