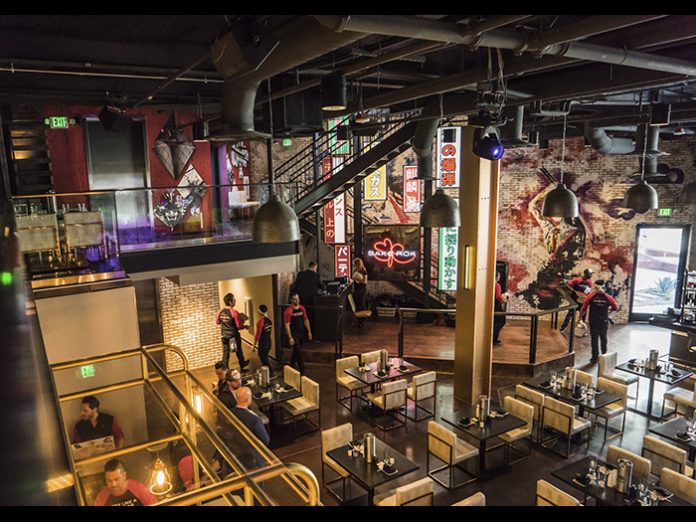 The city of Las Vegas is known as well for its incredible live entertainment as well as its towering casinos. Now, one Las Vegas restaurant is bringing musical performance table side for a truly memorable interactive dining experience.
Sake Rok, which opened in April 2015 features a high-end sushi-centric menu and wait staff that double as singing and dancing MCs. Their audience-participatory performances channel Japan's vibrant pop culture, while ensuring that dining patrons are involved in all the fun. With a clear vision in mind, Sake Rok reached out to specialist integrator All Things Integrated (ATI) to design a sound, lighting, and show control system that would deliver club level performance with push-button ease. To capture the energy and vitality of a true live concert, ATI president Robert Athey turned to the unparalleled performance of Powersoft's X8 amplifier to drive the entire main sound system.
As soon as Athey spoke with Sake Rok's owners and understood the level of sound reproduction needed to achieve the desired dining experience, he knew that a high-performance amplifier was essential.
Robert stated the following: "They wanted the music to really take centre stage, and I feel strongly that the amplifier selection is just as important as the speaker selection. In fact I had told the owners from the outset that we would only do the install if they agreed to go with Powersoft because I knew nothing else would deliver what was required."
Robert had previously specified Powersoft on installations at the Inspired Theatre and Container Park, both in Las Vegas, and was intimately familiar with the company's pedigree.
Designed a system that included five zones of (3) Pioneer XY-101 10" two-way speakers each, bolstered by (3) Pioneer XY-218S double 18" subwoofers for the house. He was able to power the entire main system with just a single X8 amplifier. Robert and his team used Powersoft's Armonía software to process the signals for speaker distribution. With any other manufacturer, Robert stated he would have turned to other outboard processing before hitting the amplifier, but the Powersoft DSP gave him exactly what he needed.
Powersoft's reliability also made him confident that running the whole system on a single amplifier was a no-risk choice.