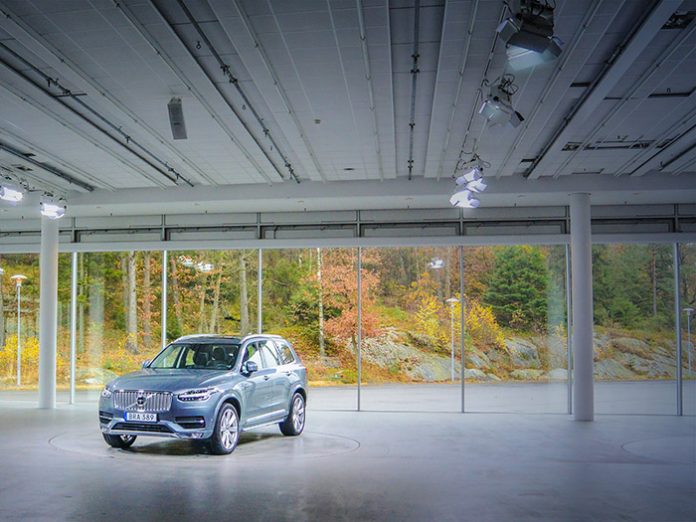 When the car manufacturer Volvo needed perfect illumination for its Design Centre, in Gothenburg, they turned to full production company Primetec. Known for delivering turnkey solutions, and with a track record within temporary events and installations for Volvo, Primetec felt confident to solve this task as well.
With full focus on the object being designer cars, lighting designer and project manager Mattias Oslak from Primetec chose the SGM P-5 W as his tool for this fixed installation. The P-5 W is a high performance luminaire with 44 x 10W cool white LEDs offering a stunningly bright output of 33,100 lumens with a 43˚ lens.
Mattias Oslak explained: "We step into an environment where the ceiling is white, and we need equipment that is compact and able to blend in the best way. For this purpose, the SGM P-5 W really makes sense in every way."
Colour temperature was of high importance for the lighting designer in order to highlight the colour and materials of the cars. Also, a low profile that could fit into the environment without taking focus was essential. "The P-5 W gives me a high output in a slim design. I am able to dim the light and at the same time keep the colour temperature, so the choice was actually quite simple, compared to conventional lights."
SGM manufactured the 24 units including barndoors for Volvo's VIP showroom in custom colour white housings, thus accommodating to the clean environment. Another three units will be added in December. Mikael Uddh of SGM Nordic AB commented: "After testing the fixtures on site and getting a go on light output and light quality, we are really happy that we were also able to fulfil Volvo's design requirements."
As the client was presented with the solution, they saw no alternative to the lamps from SGM, and subsequent feedback has been positive. "People are impressed that you can get as bright output from such compact equipment." concluded Mattias.