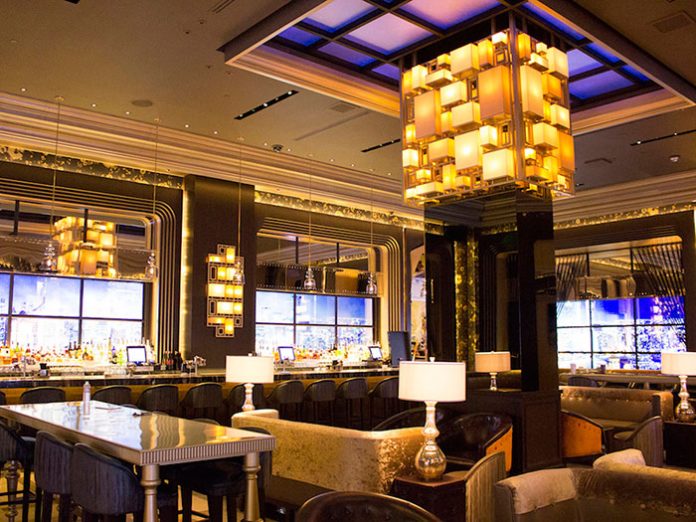 Caesar's Palace, Las Vegas recently upgraded several of its lounges and bars including what is now the new Vista Lounge; a unique immersive experience featuring the latest in video technology along with a sophisticated Martin Audio sound system.
SenovvA, an American based design and management group specialising in the entertainment, special event, architectural-construction and media services industries, was tasked with the design and integration of this one-of-a-kind multimedia project.
Bill Sage, SenovvA Account Executive for the project, explained: "We worked with the Rockwell Architectural Group in New York and Bergman Walls and Associates in Las Vegas. They came up with this immersion concept for the Vista Lounge that makes you feel like you're at the top of a skyscraper looking out of the windows down at panoramic skylines of cities like Dubai, New York and Beijing. This is achieved through the use of 4K UHD videos in the windows and LED panels in the lounge's ceiling."
Choosing a sound system to complement the video scheme was easy for Sage and Curtis Kelly, Lead for SenovvA's Systems Design Group, given they share over 20 years of experience with Martin Audio in both the live sound and installation markets.
"Vista is supposed to be a relaxed, low-key alternative to some of the more over the top clubs at Caesar's," said Bill. "There's a DJ who plays what I'd call chill-out music that doesn't overwhelm the patrons with sound and reinforces the romantic mood. The client wanted an Ultra-Lounge system with high quality sound they could feel, which added up to Martin Audio for us because Curtis and I knew it would give them everything they wanted and more.
"We mounted five Martin Audio DD12s high up on the walls at angles facing the bar which provide real smooth coverage for the room because of the Differential Dispersion technology in the boxes. There are also two PSX compact powered subwoofers, one buried under the DJ booth and one on the other side of the room which worked out well because we didn't have space for amps in the rack room and the built-in processing warms up the sound without overpowering the room. We also installed eight Martin Audio C8.1T ceiling speakers for additional fill and to supplement the system when playing low-key background music." A BSS Soundweb London BLU-80 DSP provides additional processing.
Asked about the client's response to the installation, Bill Sage confirmed: "They really love the Martin Audio system. Vista Lounge is a nice counterpoint to some of the other clubs at Caesar's because the videos really take you to other places and the sound is subtle but fantastic."