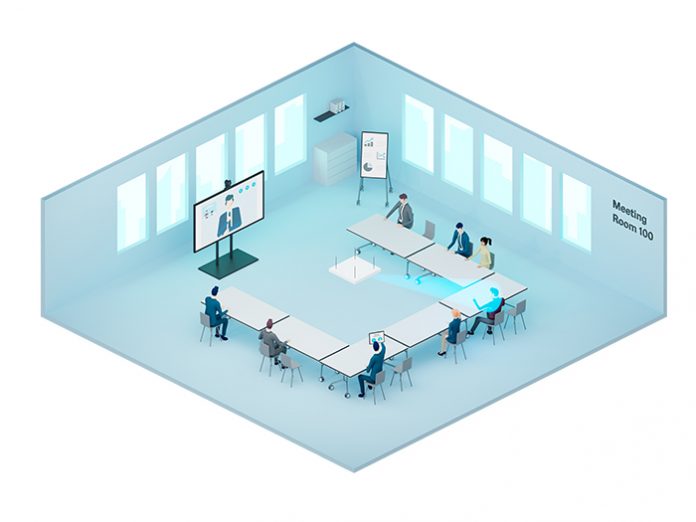 As Middle East businesses reopen offices Sennheiser aims to enable organisations to deliver seamless virtual collaboration experiences in a reliable, safe and hygienic manner. The company's offering centres around its TeamConnect Ceiling 2 solution which elevates web and video collaboration – making virtual meetings more effective by ensuring optimum audio quality for remote participants.
Because of the global pandemic, hygiene continues to be top of mind. TeamConnect Ceiling 2 enables touchless audio in meeting rooms – enabling employees to more easily maintain social distancing best practices while ensuring all participants experience clear and discernible communications. As it is ceiling mounted, the system does not require constant cleaning as table microphones would, and the fact that it reliably covers the entire room without the need for any re-adjustment allows for participants to sit at the recommended distance from each other.
"The importance of video conferencing and webinar solutions has increased massively during the coronavirus crisis, and so has the significance of touchless microphone systems like TeamConnect Ceiling 2," explained Mig Cardamone, Director of Sales and Marketing at Sennheiser Middle East.
TeamConnect Ceiling 2 microphone is compatible with Zoom Video Communications, Inc.'s Zoom Meetings and is also certified for Microsoft Teams Rooms when deployed with Microsoft-certified DSPs. Both platforms have become market leaders in the video collaboration space and with cutting-edge features, Sennheiser's solution greatly enhances the performance of these solutions. For example, dynamic beamforming automatically focuses on the active speaker and follows their voice no matter where they move in the room. This enables presenters to move about freely and utilize whiteboards without being restricted to a fixed position in the meeting space.
Sennheiser's collaboration with other leadings audio solutions specialists ensures that the TeamConnect Ceiling offers unparalleled ease of installation and control. With the Bose ES1 Ceiling Audio Solution, organizations can benefit from a bundle of the Sennheiser TeamConnect Ceiling 2 microphone along with the digital signal processor, in-ceiling speakers and accompanying amplifier from Bose for an all-in-one solution. This ensures a transparent and reliable technology experience with no audio devices on the walls or tabletops, creating a modern-looking meeting room.
Businesses with existing Q-SYS Ecosystems can use the QSC plugin to easily configure and manage TeamConnect Ceiling 2, such as monitoring audio levels, and viewing, in real-time, the vertical and horizontal angle of the detected person speaking. Similarly, full compatibility with Crestron's control system platform enables remote access to the ceiling microphone's audio parameters, mute and customizable LED control.
"The rapid digitalization of the office environment has been daunting and our intention has been to ease this transition by providing seamless and intuitive solutions that enable employees to maintain focus on collaboration rather than technology. For this reason, we have worked with other industry leaders to ensure the most effective and convenient deployment and management of the TeamConnect Ceiling 2 solution," said Mig.