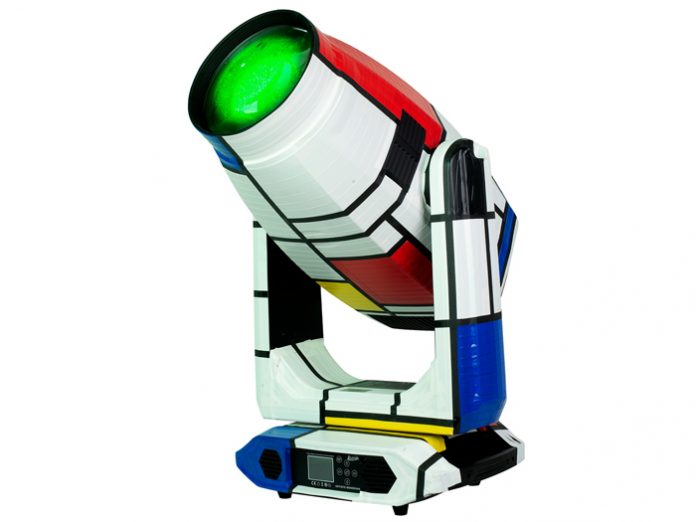 Now in stock and shipping is Elation's Artiste Mondrian LED profile FX luminaire, a high-impact lighting solution for any application requiring powerful beam looks, stunning air effects and superior color. A true powerhouse at over 51,000 lumens, the Artiste Mondrian offers all the advanced features designers would want in a top-of-the-line professional luminaire while surpassing outdated and inefficient lamp technology.
Filling out the top of Elation's award-winning Artiste LED moving head series, the new Mondrian partners alongside and uses the same technology as the highly acclaimed Artiste Monet and Artiste Rembrandt including Elation's exclusive 7-flag SpectraColor color mixing system, and endless and continuous rotational framing system. The Artiste Mondrian™ is the brightest, full-featured LED Profile FX fixture Elation has produced to date.
"The Artiste Mondrian really has it all," stated Elation Product Manager Matthias Hinrichs. "Tight beams from its massive front lens, smooth washes with unprecedented light output and sharp images without ever compromising on its incredible projection performance. It's a true all-in-one workhorse that outperforms any discharge fixture in the market without the usual drawbacks of distracting fan noise and rapid degradation of light quality. Its mid-air creative FX are phenomenal due to the beautiful SpectraColors and carefully designed gobo selection. It's a truly stunning luminaire and a great finale to the Artiste range of products. Like its namesake, Piet Mondrian, this fixture will create iconic looks for lighting designers for many years to come."
Optimized for extreme output and coverage, the Mondrian harnesses its long-throw power from an efficient 950W 6,500K White Hotspot LED engine. The custom peak-field LED engine, a first of its kind, features a 2-to-1 centre to edge LED ratio for more powerful, high centre intensity beam and wash throws while allowing for more unique air FX.
With light bursting through a custom-designed 226mm (8 3/4″) Plano Convex lens, the largest PC lens on the market, the thick beam look is deceptively tangible and eye-catchingly stunning. Combined with a tight 3.3-degree narrow beam that zooms out to 45-degrees, the Mondrian has the power to cut through at even great distances in arena touring environments or any large-scale show setting. With so much power, it also makes for a perfect long-throw followspot.
The Mondrian integrates Elation's highly praised SpectraColor colour mixing system, which offers traditional CMY mixing but adds a variable RGB colour mix for rich, saturated primaries. In combination with a variable CTO, the Mondrian allows for colours that were previously impossible to achieve, from theatrical pastels to the most vibrant red or blues ever produced by a colour mixing system. The seven colour-mixing flags align at 16-bit precision for artistic possibilities that are truly inspiring. A 6-position fixed color wheel offers UV and high CRI options to round out the amazing colour range of the fixture.
The full-blackout framing array includes Elation's newly designed, unlimited indexing and continuous 360° rotation control, which means you no longer need to rotate the fixture to hit the spot or angle you desire. Refine the beam shape as needed and frame around objects to be highlighted. Shapes can rotate like gobos while morphing and transforming, allowing for new creative transitions, interesting projections and aerial effects not previously possible.
The Artiste Mondrian offers a comprehensive FX package with 12 rotating interchangeable glass gobos on two wheels and bi-directional animation wheel for limitless texture and layering solutions for the largest and most demanding applications. Effects can be multiplied via dual prisms for more bustling looks and dual linear frost filters can be applied for an even diffusion of light when designers wish for softer gobo or soft wash effects. A high-speed iris can be engaged for further impression.
The Artiste Mondrian is outfitted with all the professional control and connection features that designers would expect from a professional cutting-edge luminaire. With unprecedented power and full array of professional design features, the Mondrian sets a new standard as a benchmark automated LED luminaire.