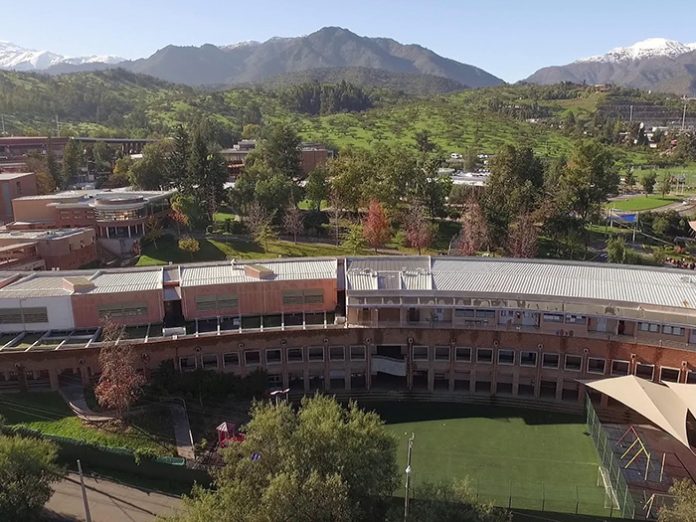 Novotic has recently completed the design and installation of a public address and voice evacuation system for Nido de Aguilas International School in Lo Barnechea, Santiago de Chile, based around Community W SERIES loudspeakers.
Nido de Aguilas was founded in 1934 as a private, co-educational, non-sectarian, non-profit day school rooted in the best traditions of Chilean and North American education. Today, the school has over 1,770 students from more than 50 countries, and offers a comprehensive liberal arts, college preparatory educational program from pre-kindergarten through Grade 12. Nido de Aguilas serves the international business and diplomatic community of Santiago, as well as local students seeking an English-language, U.S.-style education. The school's campus is located on a spacious 130-acre, park-like setting in the foothills of the Andes mountain range, just 20 minutes from downtown Santiago.
As part of its security structuring process, Nido de Aguilas decided to implement an information and evacuation audio system, with the requirement to deliver audio to all the classrooms, halls, gymnasium, theatre, pool and specified outdoor areas. To provide the system, the school employed the services of Novotic, a specialist integrator with more than 18 years' experience in providing audio visual solutions for corporate A/V, churches, leisure facilities, hotels, hospitality venues and education establishments.
Due to the complexity and scale of the areas to be covered, Novotic made two key decisions in the system's design. First, to provide a cost-effective solution for the size of the establishment, it decided that distribution of the audio signal would be made using Dante protocol through the school's existing Ethernet network, which covered all areas of the site requiring audio. The second key decision was the choice of loudspeakers, which had to provide exceptional intelligibility, high power and wide coverage. Many of the loudspeakers were required to be located outside, so reliable all-weather capability was essential. Novotic chose Community's W SERIES as the optimum loudspeakers to meet all of their requirements, and accurately calculated the number of loudspeakers and positions to provide the specified coverage. The system uses fourteen W2-2W8T dual eight-inch compact premium two-way loudspeakers and six WX-1226 12-inch high performance two-way, point source loudspeakers.
Signal processing for the system is provided by Symetrix, with Crestron control and Visionary Solutions amplification. A Denon Pro device is used for audio storage and playback of pre-recorded messages to selected groups of classrooms or zones.
Novotic reports that the system not only met the school's remit, but that the client was amazed at the coverage and the clarity of the sound, particularly when listening at a distance.