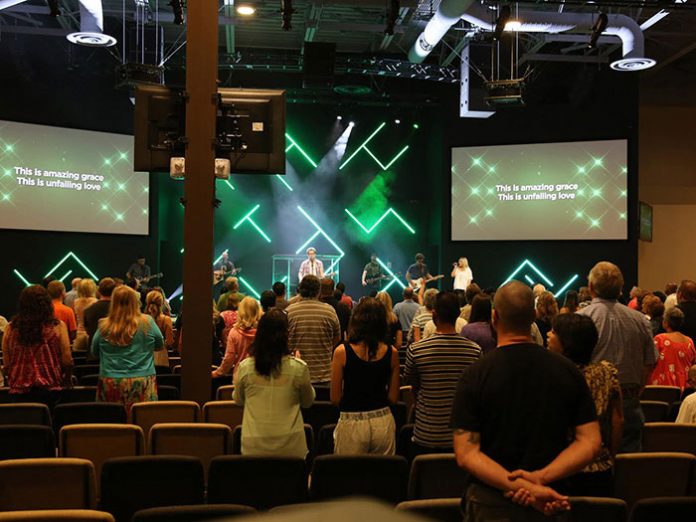 One of the most widely known and highly respected houses of worship in the world, Saddleback started out as a portable church, holding its first service on Easter Sunday, 1980 in the apartment of its founders Rick and Kay Warren. Saddleback, which now has 10 campuses in California and four overseas, did not even acquire its first permanent home until 1993, when it opened the doors of its Lake Forest, CA church.
This June, history repeated itself for Saddleback, when it made the transition from portable church to permanent campus in Anaheim by opening a 40,000 sq ft facility with 10 classrooms and a 1,000-person worship area across from Angels Stadium. When it came to lighting the new campus, which is located in a retrofitted building, Saddleback Technical Director Greg Baker called on CCI Solutions to provide something that wasn't even available back in 1993 – an energy-efficient LED system. CCI met this request with the help of a collection of fixtures from Chauvet Professional.
"We've been working with Saddleback for 20 years," said Duke DeJong, Director of Sales and Marketing at CCI Solutions. "As the church has grown, it's always remained committed to staying on top of technology to help in its mission. When the church was ready to transition Saddleback Anaheim from a portable to a permanent campus, Greg gave us two goals: to provide an LED system that would be energy efficient and low maintenance, while creating an engaging environment that would look good but wouldn't break the bank."
The CCI team accomplished these goals with an LED rig in the main worship area that included four Rogue R1 Wash moving fixtures, four Rogue R1 Spot fixtures, four Rogue R2 Spot fixtures and six Ovation E-190WW ellipsoidal fixtures with 26° HR lens tubes. "This is a large rectangular room, so the lighting needs are fairly straightforward," said Mark Pearson, who led the CCI design team on this project. "We wanted fixtures with the output that could give us the coverage we needed in a large area and would also deliver good colour quality."
Given that Saddleback is a multi-campus church, the light rig also had to produce high quality light, according to Mark. "Typically, worship happens here locally at the campus level and then the message is delivered via video from the main campus," he said. "The lighting during live worship at the Anaheim campus has to be just as good as what people see on video during the message from the main Lake Forest campus; otherwise there is a disconnect and it feels like it's a lesser venue."
The Rogue R1 Washes in the CCI rig are flown over the stage and are used for general top/back lighting. Powered by seven RGBW 15W Quad-Color LEDs, the washes deliver vivid colours add visual effects to accent services at key points. Flown over the stage and on the floor as uplighting are the Rogue Spot fixtures used for effect lighting during services and musical performances.
Mark positioned the six Ovation ellipsoidals on a lighting pipe located mid house. From this position, the fixtures provide front lighting for the worship teams and general speaking.
Like that Lake Forest campus, the new Anaheim facility has been eagerly embraced by worshippers in the community However, in contrast to the lighting available in the 1990s when Rick Warren (who is the author of the Purpose Driven Life), moved his congregation into its first permanent home, LED fixtures at Anaheim today are cool, energy efficient and low maintenance. Like Saddleback itself, lighting technology has grown over the years.