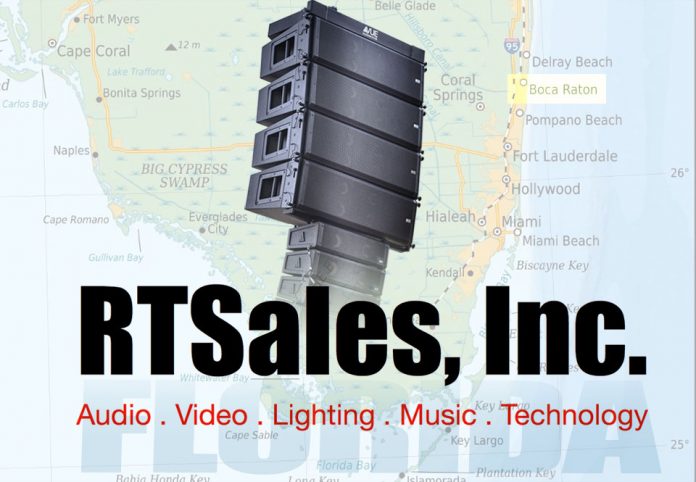 VUE Audiotechnik is pleased to announce the appointment of RT Sales as the company's official representatives in Florida. RT Sales is the latest in a series of staff and global network additions as VUE seeks to bolster resources to support increasing product demand and brand interest.
Founded in 1979, RT Sales is headquartered in Boca Raton, with additional offices in southern Florida and throughout the Southeast US. RT Sales represents a broad mix of entertainment technology brands, from musical instruments to recording, live sound, lighting, and DJ systems.
RT Sales President Bert Tunks joined the company in 1990, where he has served in various technical and business development roles throughout his three-decade rise to the big chair. Bert's long view of pro audio's evolution lends significant credence to his enthusiasm for the addition of VUE.
"The reputation of Mike, Ken and the rest of the VUE team and their legacy in Pro Audio is undeniable," said Bert. "But what they're doing today with groundbreaking technologies like Beryllium high-frequency components and the Acoustic Linearity line arrays represents a level of innovation we haven't seen in a while. Many of our customers were pushing us to speak with VUE, but once we heard the products for ourselves at the LDI show we were sold. VUE is an excellent complement to the existing product lines and we're excited to help bring these pioneering products to market.  A perfect fit."
"Our business is expanding quickly, and we're eager to partner with teams like RT Sales who are willing to look beyond the status quo and embrace innovation as an essential component for exceptional customer service," said VUE's VP of Sales, Sara Elliott. "RT Sales has well-established relationships, decades of industry knowledge, and a genuine passion for the advancement of technology that makes them the ideal VUE partner. We are thrilled to welcome RT Sales into the family."