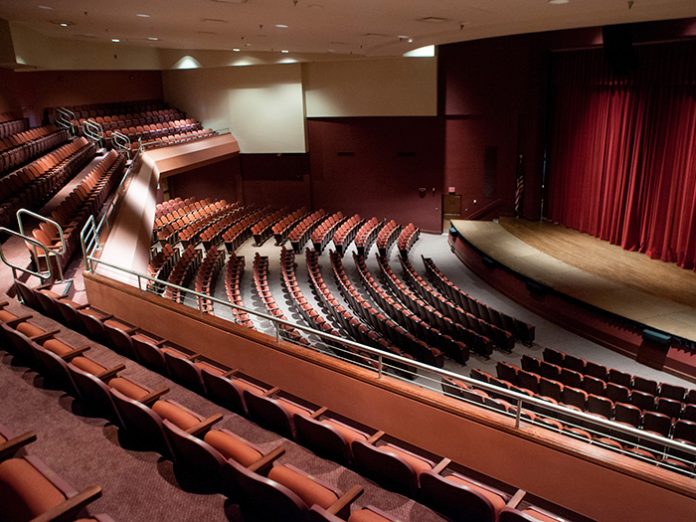 The Todd Performing Arts Centre (TPAC) at Chesapeake College in Wye Mills, MD, recently upgraded its 903-seat theatre audio system. The effort, led by AV consultant Convergent Technologies Design Group, Inc., was intended to bring the school's main performance venue up to date, and the centrepiece of this extensive renovation was a RoomMatch® loudspeaker system from Bose Professional.
The system consists of a single centre cluster made up of four RoomMatch modules topped with a pair of RoomMatch RMS215 subwoofers, powered by three 8-channel PowerMatch® PM8500N networked amplifiers. Together, these systems transformed the venue into a modern facility able to accommodate the much broader requirements of contemporary music and theatrical performances.
Indeed, TPAC runs the gamut in productions held there, including three concerts per season by the Baltimore Symphony Orchestra. The college also hosts its own productions including Sleigh Ride Around the World, an annual holiday special, along with multiple professional children's theatre touring productions, occasional college theatre department performances, local dance school recitals and more. Add in various festivals, bus and truck shows, country music concerts, military service bands, and conferences and business seminars/meetings, and it all makes TPAC a bustling hub for the campus community. Only a flexible system like the Bose RoomMatch could fill all of its requirements.
Working closely with Bose technical personnel, who employed the proprietary Bose Modeler software to map the space, Bill Holaday, Principal and Project Manager at Convergent Technologies Design Group, was able to choose the exact RoomMatch components he needed to build the perfect system for TPAC. He remarks, "Bose RoomMatch was the only system that could give us the consistency and comprehensiveness of coverage that we needed." Holaday adds that the Bose system was also chosen for the theatre because of the challenge they faced in finding a system that would provide an even coverage solution for the theatre that consists of 25-foot ceilings, and that would provide good intelligibility while maintaining the building's architecture. "I had heard great reviews on RoomMatch systems," he says. "The shape of the room really lent itself to this type of system, and the kind of precision that the Bose design tool provides and the exact pattern coverage that each individual RoomMatch speaker enclosure offers combined to create a cost-effective, perfectly performing system for the space it's in."
Jon Smulyan, Systems Engineer for the project's integrator, Lee Hartman & Sons (also based in Baltimore), notes that the RoomMatch system was very straightforward to install and integrate, a reflection of the emphasis Bose Professional places on engineering and efficiency. "Bose was willing to put more of its engineering resources into this project, which was another reason RoomMatch was successful for this installation," he says.
Dick Peterson, CFE, Executive Director of the Todd Performing Arts Centre, notes that as a musician, the Bose RoomMatch system satisfies an innate sense of sonic authenticity for him. "The system just sounds wonderful," he says. He adds that he often uses boundary microphones, such as the Crown PCC-160, to capture the entire stage for theatrical productions. The RoomMatch system has made that even more effective. "With the new system, we have been able to avoid that 'miked-actor' sound from the stage" he explains. "It's incredibly natural sounding, and at the same time the gain-before-feedback is also enhanced. But what I especially like about the RoomMatch system here is how it covers every seat equally, and how we didn't need to use a delay system for the balcony, just some fill speakers. It's such a well-engineered system."
Holaday agrees: "When we did the final walk-through of the venue after installation, we measured the coverage with pink noise and it was exactly what the Bose software predicted: a negligible difference between the best seat and the most distant seat in the house," he says. "It was an impressive accomplishment."