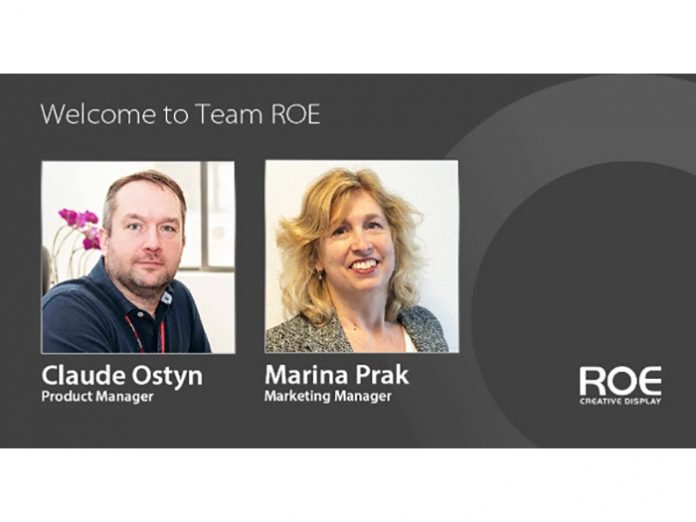 With the appointment of no less than 4 industry veterans, in both product management as well as a marketing, global leader in LED display solutions ROE Visual has strengthened its team to execute their ambitious growth plans for 2018 and beyond and to further expand the LED display and video processing market.
Tony van Moorleghem has over 25 years of experience in global operations, customer service and product marketing with European, US and Chinese world leading companies. He has been actively involved in the complete product management process, from development to marketing of a wide variety of Video and LED technologies. As Director Product Management, van Moorleghem will be responsible for building a new product management organisation for ROE Visual. Expanding the product portfolio and custom product development division.
Dries Vermeulen brings in a track record of almost 2 decennia in LED display technology. He has successfully supported and serviced LED display and video processing systems for BARCO and VER. As Product Manager, Vermeulen with experience on the manufacturers as well as the customer side will help ROE Visual to further develop the products that high-profile users demand.
Claude Ostyn has been in the R&D trenches for more than 20 years and spent most of his career designing, developing and managing products for the entertainment industry in general and for LED display technology in particular. He has been engaged in every stage of the product life cycle and has a special interest in working with international teams. Claude will bring his savvy and know-how to ROE. With an ambition to position ROE as a leading LED manufacturer, he will join the product management team to support the development of new products.
Marina Prak has over 35 years of experience in the entertainment industry, of which nearly 20 years in marketing. As full-fledged marketing professional Prak is experienced in developing and implementing marketing and sales strategies, customer support, PR, organising events, product launches and off- and online marketing. As Marketing Manager for ROE Visual Europe, Prak will be responsible for supporting and growing the ROE Visual brand in Europe and the Middle East.
Jason Lu, General Manager of ROE Visual, welcomes van Moorleghem, Vermeulen and Ostyn with confidence: "Tony, Dries and Claude bring both knowledge and exuberance to their new roles, which demonstrates both our leadership in the industry and commitment to serving the evolving market. They also share our spirit of innovation and focus on product quality. We are fortunate to have them joining our team."
Roelof Bouwman, Managing Director of ROE Visual Europe added: "We're really excited to be able to add Prak to our team. With her wealth of marketing experience Prak will be able to execute and develop ambitious plans to drive our brand."