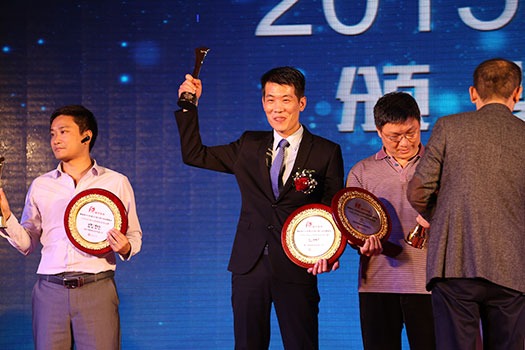 In December the Chinese LED industry celebrated its own Oscar's at the 2015 Qiang Li Ju Cai Huicun Forum & LED Display Industry Brand Awards.
Video processing manufacturer RGBlink was acknowledged with the first award of the ceremony for Innovation and Growth, with RGBlink having built a strong and visible market presence the vote. RGBlink Marketing Director, Justin Knox accepted the award on behalf RGBlink he said: "It is a great privilege to accept this award on behalf of the RGBlink team, and we would like to thank the large community of LED professionals – many whom are in this room – for all their support." RGBlink received a second award also, accepted by RGBlink General Manager of Domestic Sales, Hu Hongchao.
This award recognised RGBlink a key partner to the LED Display industry with its scaling and switching equipment. With voting across four months, and nearly six hundred companies participating the awards, the awards have wide industry support. The event attracting more than 64 media and press agencies to provide coverage, including Xinhua News Agency, Sina Weibo, Phoenix, Southern Metropolis Daily, Shenzhen TV to name a few. RGBlink Managing Director, Hu Hongqing, thanked the industry and the RGBlink team he said: "Thank you for the recognition of the diligent efforts by our team at RGBlink, we are committed to growing and improving into the future will continue to work hard to bring the best solutions to the LED industry."
Three hundred LED display industry leaders were present for the ceremonies at Kylin Grand Hotel Ballrooms in Shenzhen. In addition to the awards ceremony a number of industry leaders outlined the continuing the rapid development and innovation of LED display market and related industries over the past year, and also held a forum session to discuss future trends. The forum included Guan Baiyu, Secretary General of China LED industry and Qiu Dongming of the Shanghai Advertising Association along with industry leaders.
The LED display industry continues to mature, emerging as an important sector across China and the world. The Qiang Li Ju Cai Huicun Forum & LED Display Industry Brand Awards showcase the leading companies and how the industry is developing and innovating products for a wide range of applications – transforming other industries such as advertising, OOH Advertising, and entertainment. RGBlink is pleased to be an important part of making this possible.