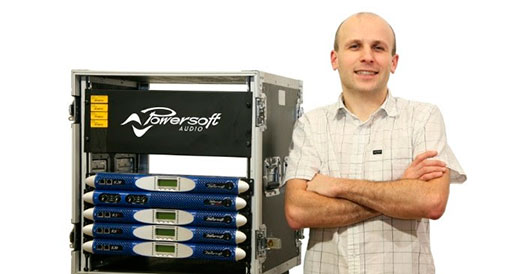 Powersoft has announced the appointment of Prodance as its new distributor in the Czech Republic.
The experienced company, which started life in 1992 as a sales and rental agency before moving to dedicated distribution, has added the brand to its burgeoning portfolio of top tier pro audio companies with immediate effect.
Martin Holas, Import Manager at the Prague based company, said that Powersoft more than met their requirements after dropping their previous amplifier supplier. "We had been looking for a high power amplifier manufacturer for some time, as it represented an obvious gap in our portfolio. We had already experienced the sound and build quality of Powersoft's modules inside the active loudspeakers that we distribute, so it was not a difficult decision to make.
"On our first meeting at PL+S 2015 we discovered that Powersoft was already looking to extend its business in our territory, so the timing was perfect."
Powersoft's Regional Account Manager, Stefano Previtali, agreed, he said: "This is a perfect fit for both companies. Prodance has excellent brand representation and the potential synergies that this alliance offers will radically help to increase our market share across all segments in this territory."
Among the companies for whom Prodance handle distribution are EAW, RCF, Allen & Heath, B&C Speakers, Rane, Denon PRO, Manfrotto, Tasker, Fane, Precision Devices and Adam Audio. "Powersoft is behind many successful products as OEM supplier, but their brand awareness was not appropriate to their complex portfolio of products and advanced technology offers," continued Martin.
"Powersoft can provide a solution to almost any scenario that contains power amplifiers and integration of highly advanced DSP along with a control platform and user interface. Therefore that perception is something we aim to change."
In fact marketing has already begun in earnest. "We want every potential customer for a Powersoft amplifier to hear it and see for themselves how the control and monitoring works. This will require a lot of presentations, workshops and trial period demonstrations. In fact they have already given their first presentation with Armonía software training and performance listening test," he added.
"We supply many rental companies and sound engineers but we also see the installation market as a great opportunity to extend our business. With Powersoft products we have the right tools to succeed – and since we supply many local loudspeaker manufacturers with our key transducer brands, given the growing popularity of powered systems, we also see great OEM potential for Powersoft."
Martin concluded, "It's a great honour to represent a company that drives innovation and is pushing the boundaries in such demanding market segment. It is also a challenge, and one that we are delighted to accept."