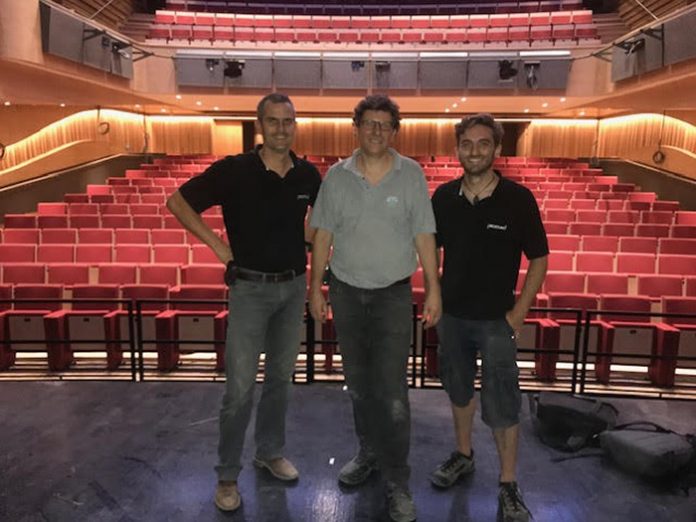 Mauritius is a vibrant place with a melting pot of cultures, art, food and experiences, and though the island is most famous for its gorgeous beaches and azure blue sea, there's a new project that promises to add even more richness to the Mauritian experience.
Le Caudan Arts Centre is a brand-new theatre build on the Le Caudan Waterfront in Port Louis, the capital city of the island. The waterfront itself is a hub for music, art, food, conferences and events and was a natural choice for a theatre of the Arts Centre's calibre. Specified by ARUP, who have a long history of helping to design and build theatres all over the world, the Arts Centre needed to be equipped with the best lighting infrastructure, control and luminaires available. ETC was the obvious choice.
RentaColor, who are the local dealers of ETC in Mauritius teamed up with Prosound from South Africa to make the project a reality. The two have a long and storied history, which is one of the reasons why it was possible to pull the install off. Without local representation in the form of RentaColor it would have been very difficult to have the support on the ground that is required for a project with such a broad scope.
The lighting package for Le Caudan features some of the best hardware and software on the market today. On the entertainment side the lighting rig is populated by a mix of ETC ColorSource Spots, Series 2 Lustrs Profiles and ColorSource PARs with a variety of lensing options which makes it very flexible. All of these excellent LED fixtures have then been augmented by some standard Source 4 Tungsten Fresnels to provide that warm a hearty glow that lighting designers love. Of course, given the hybrid nature of an LED/Tungsten rig, power distribution was also an important component, given the need for both dimming and constant current. The solution was the ETC ColorSource ThruPower cabinets, which are capable of switching between three modes of dimming, relay, and constant current for any given circuit. The seven x 24 Circuit Cabinets that were installed at Le Caudan has the net result of providing 162 channels of highly flexible outputs distributed around the theatre in the form of facility panels which were designed and provided by Prosound South Africa. Each facility panel further provides DMX and Ethernet ports which tie back to the main dimmer room to allow for easy patching and control of the LED fixtures. All of this is brought together by ETC's award winning Eos software in the form of an Ion XE Console. The Eos family of consoles have proven themselves time and again in theatres all over the world and have become the go to choice for theatres everywhere.
The other half of the lighting install is based around the architectural control of the working lights and blue show lights. The spec for this system called for multiple different modes such as night, day, show and rehearsal, all of which needed to be capable of bringing up different circuits at different times, and all controllable from either button station placed throughout the theatre, or by a master control panel. In addition to the manual control options, there was also a need to place a lot of these circuits on Occupancy detectors for automated control. The solution that ticked all the boxes was ETC's Paradigm system which is capable of all that plus more. Beyond being able to run multiple presets and modes, Paradigm can offer time scheduling as well as load and error reporting. Le Caudan has also gone one step further and added a Central Control Server which allows any reporting to be distributed via email to a determined list of technicians and support staff. The result is that tech support in South Africa is able to monitor the system remotely and assist in problem shooting should any issues arise. This feature is an important ingredient in ETC's commitment to aftersales support which is born through Prosound and RentaColor.
On the 1st of December 2018, Prosound and RentaColor celebrated another successful install that culminated with a talent show on the boards of Le Caudan Arts Centre for the first time. To see the variety of talent in the performers was to confirm that Le Caudan Arts Centre has a long and proud story ahead of it.
Dominique Hardy of RentaColor had this to say about the project: "It's great to see the Arts Centre come alive after five months of long hours and overcoming logistical difficulties. But despite the time challenges we still delivered the complete install on time. It was a fantastic moment to see the theatre come together in time for the opening show."
The ETC Product Manager at ApexPro in South Africa, who was on site for the opening agrees, adding; "It's hard to think of something more exciting than a brand-new theatre opening its doors for the first time. With Le Caudan the people of Mauritius have something they can be truly proud of, and it is an honour that ourselves, along with Prosound, RentaColor and ETC, can be a part of that. We look forward to what the future holds in Mauritius with ETC."