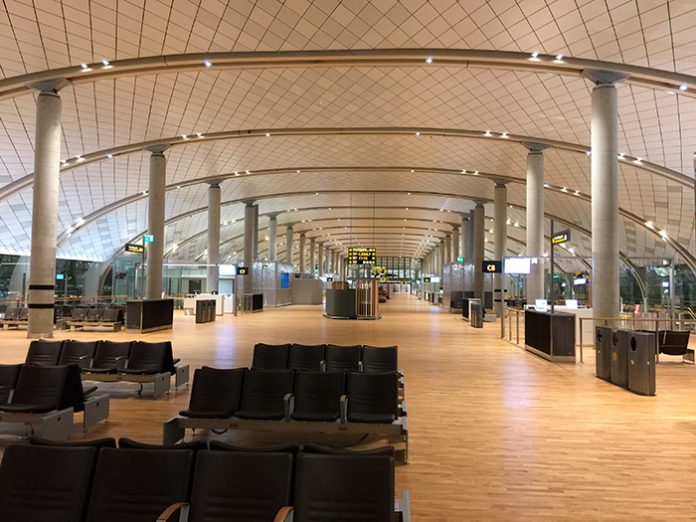 In development for more than 10 years, the new Terminal 2 complex at Norway's Oslo Airport is set to increase the passenger handling capacity of the airport to an impressive 28 million travellers per year. With so many new passengers, audio intelligibility within the terminal will be of paramount importance when it fully opens to the public in April. Ensuring that no message is ever misheard, 160 Renkus-Heinz loudspeakers have been installed throughout the space.
In line with airport operator expectations and general safety regulations, the system needed to handle PA duties, general announcements and background music. Oslo-based company, Caverion. was awarded the contract to provide design and consultancy services for the fit-out in 2013, and as Project Manager Thomas Opheim explained, the priority was specifying a brand that could deliver on several primary fronts.
"Given the critical nature of its requirements, the system needed to be highly reliable and able to support consistent coverage throughout the terminal's different areas," he said. "It also needed to blend in with the architectural design of the airport." That meant a compact, aesthetically-subtle solution was always going to be the order of the day.
After careful consideration, this arrived in the form of Renkus-Heinz TRX62H Two-Way Complex Loudspeaker Systems. Outstanding 70 Hz to 20 kHz performance and superior pattern control with low distortion are among the features of this popular speaker, which derives its capabilities from dual 6.5-inch Heavy-Duty LF drivers with carbon fibre cones and a 1-inch Extended Range Titanium HF Driver.
In total, 100 of the units have been installed throughout Terminal 2, but they are by no means the only items to be drawn from the Renkus-Heinz range. Also included are eight IC16 and two IC24 ICONYX Digitally Steerable Line Arrays. Designed to bring intelligible sound to even the most demanding acoustic environments, the ICONYX series has found favour with a number of other major travel hubs, including LAX International Airport in the US.
Rounding out the installation are four CDT520 Complex Conic Horns with CoEntrant Drivers and 24 CFX12S 12-Inch High Performance Subwoofers. The equipment was supplied via the long-term distributor of Renkus-Heinz in the region, Benum Nordic AS, and successfully integrated during the closing months of 2016.
"The response from the airport operator has been extremely positive," concluded Thomas. "They are impressed by the quality, and have made particular mention of the ability to cover very large areas with what is a relatively small number of speakers given the size of the terminal. It's a testament to the quality and consistency of the Renkus-Heinz range, and its ability to cope with all kinds of install environments."
www.renkus-heinz.com