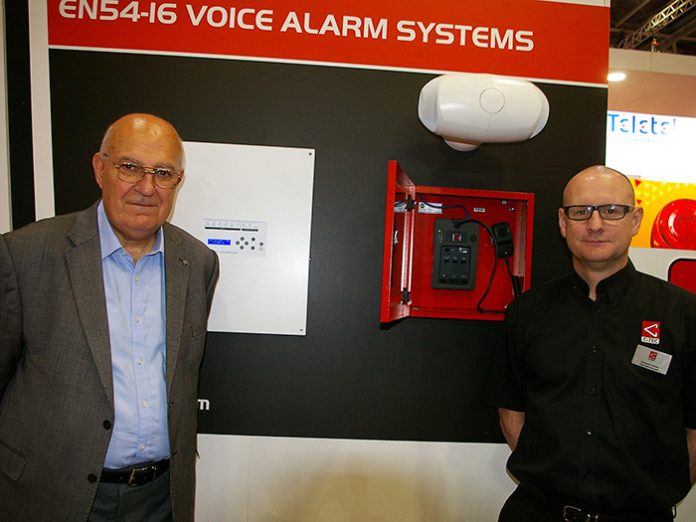 RCF UK has announced the appointment of SigNET (AC) Ltd, leaders in life safety audio communication (voice alarms), as its Specialist Distributor in the United Kingdom for the DXT 3000 Emergency Evacuation System.
In addition to the Italian manufacturer's EN 54-16 certified DXT 3000, SigNET will also be able to offer sales of RCF's associated EN 54 certified Voice Alarm products into the Fire Alarm and Security Systems market within the UK. These will be shown for the first time on stand G140 at FIREX International 2016 (London ExCeL, June 21-23).
The DXT 3000 system integrates amplification, control, routing, line monitoring and power supply in a compact, wall-mounted cabinet for single or multi-zone applications. A wall-mounted emergency microphone and controller are also available, as is a desk-mounted paging microphone.
Phil Price RCF's International Sales Manager for Voice Evacuation Systems, and Commercial Audio/Installed Sound commented: "SigNET is well known for its AFILS hearing loop systems but also has a strong track record supplying Fire Alarm and Voice Alarm systems, which gives a considerable advantage in this strategic market. SigNET will offer full trade distribution and excellent technical support facilities for RCF in the UK."
SigNET's Sales Manager, Tremayne Crossley, confirmed this and gave a concluding addition: "SigNET has considerable experience in supplying and supporting Voice Alarm systems ranging from shops with a single evacuation zone through to airports with more than 200 zones. We are very excited that this, combined with the innovative design and competitive pricing of the DXT 3000, will allow us to provide the Fire Alarm market with a simple, effective, fully-compliant voice alarm solution."